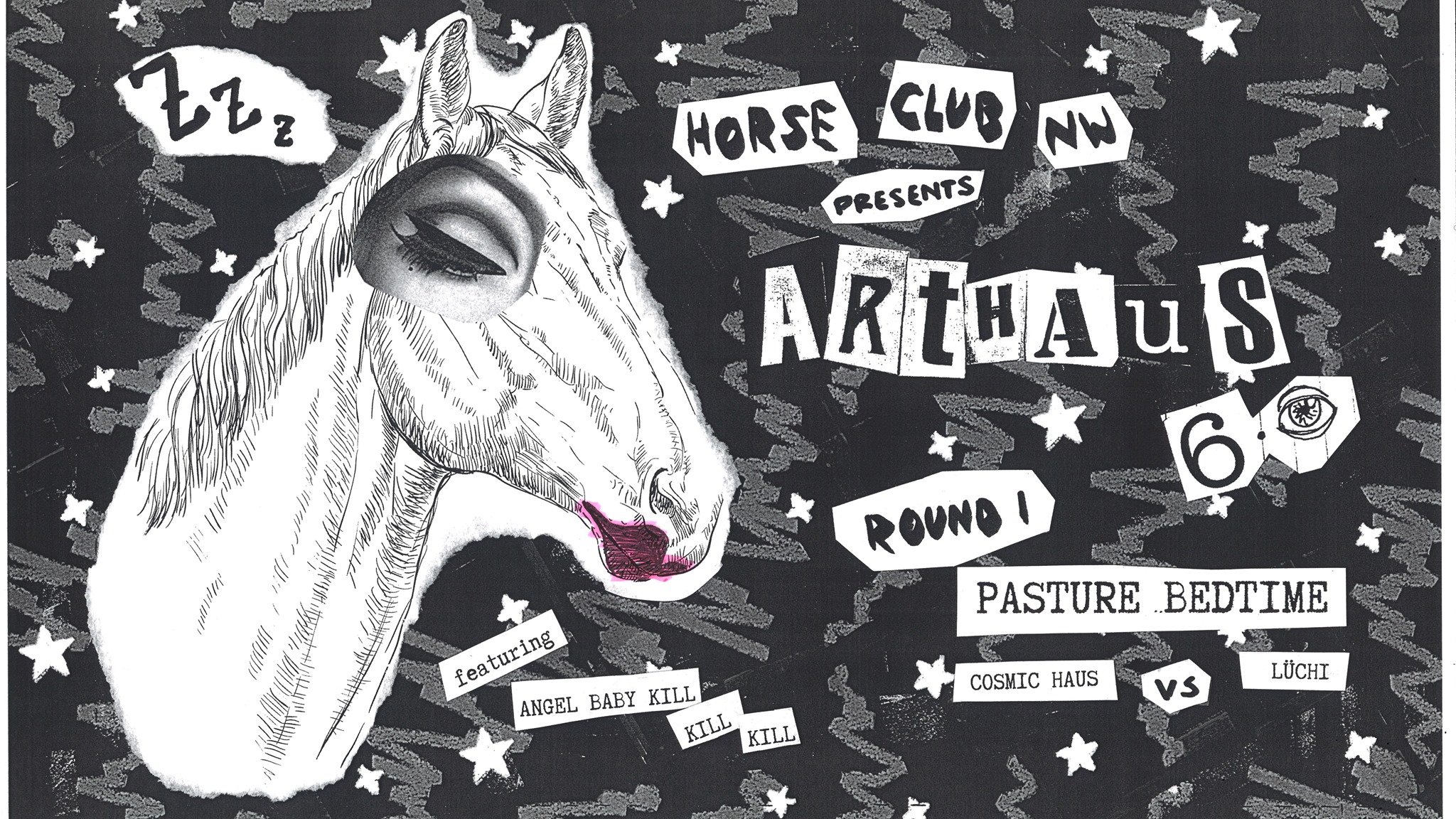 ArtHaus 6.0: Pasture Bedtime
∙·▫▫ᵒᴼᵒ▫ₒₒ▫ᵒᴼᵒ▫ₒₒ▫ᵒᴼᵒ▫ₒₒ▫ᵒᴼᵒ▫ₒₒ▫ᵒᴼᵒ▫▫·∙
HORSE CLUB NW
presents
ArtHaus 6.0: Pasture Bedtime
with special guest
ANGEL BABY KILL KILL KILL
∙·▫▫ᵒᴼᵒ▫ₒₒ▫ᵒᴼᵒ▫ₒₒ▫ᵒᴼᵒ▫ₒₒ▫ᵒᴼᵒ▫ₒₒ▫ᵒᴼᵒ▫▫·∙
Arthaus: Drag Haus Battle Royale is back for season 6-6-sickening! Hosted by 5.0 winners Horse Club NW, ArtHaus pits eight teams of drag freaks, geeks, and chic-s in a year-long competition where your vote determines whose haus reigns supreme!
ROUND 1
––––•☾-•☾-✫–——-✫-☽•-☽•––––
COSMIC HAUS vs LÜCHI
in
ArtHaus 6.0
PASTURE BEDTIME
––––•☾-•☾-✫–——-✫-☽•-☽•––––
For our first preliminary round of competition, we're asking our queens the age-old question: do horses dream of electric Jeeps? The category is bedtime fantasy, and you better prepare yourselves dream warriors. Only one haus can advance to our semi-finals, while the other is left to clean up nocturnal emissions. Find out what happens when drag stops being polite, and starts getting surreal!
COSMIC HAUS is
Arrietty Fatale
& Evvie the Human
LÜCHI is
Ümlaut
& Isis
Performances by
HORSE CLUB NW
Beau Degas
& Bitch Hazel
Special Guest:
Angel Baby Kill Kill Kill
$9/advance, $13/at the door
Doors @ 7pm / Show @ 8pm
—————————————-
Kremwerk
1809 Minor Ave.
Seattle, WA
kremwerk.com
21+
—————————————-
Sign up for the Kremwerk + Timbre Room Complex mailing list on our website, to stay in the loop about upcoming events, ticket giveaways and more!
www.kremwerk.com
………………………………………
Kremwerk strives to be a safe space. The following actions or display of behavior will not be tolerated: bigotry, racism, sexism, transphobia, homophobia, misogyny, ableism, as well as the disrespect of the rules of consent. Our staff is here to support you.
Kremwerk is currently not an ADA accessible space. Club entry is through a flight of 12 metal stairs, with two small steps leading into the main part of the club. We have 2 restrooms with a total of 3 stalls and 1 urinal, all gender neutral. If you would like access to single-stall restrooms, please don't hesitate to ask our door & security to allow entry upstairs into Timbre Room, which has 2 single-stall gender-neutral restrooms.
For any questions about safety & accessibility, please email info@kremwerk.com