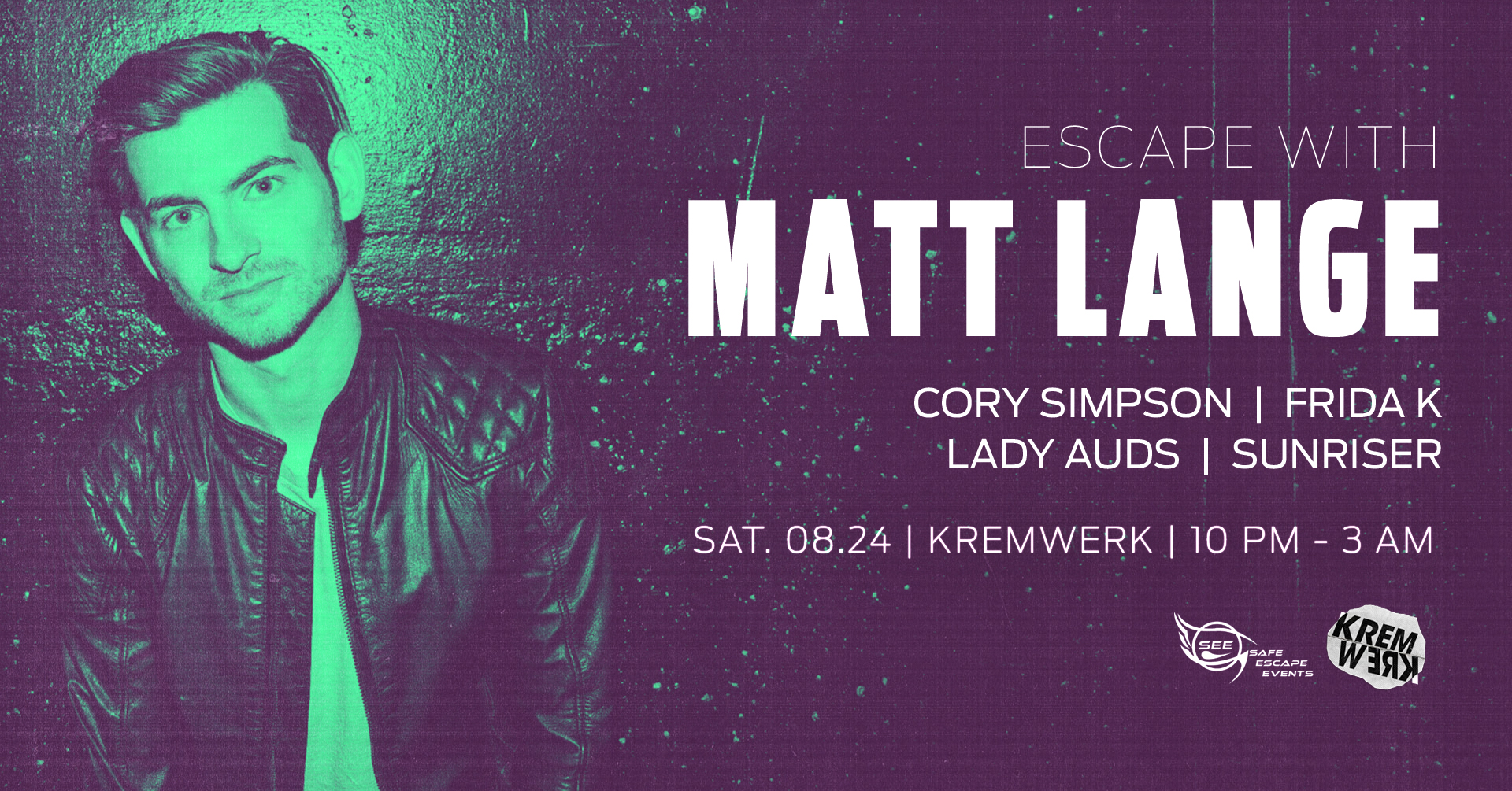 Escape With: Matt Lange
Safe Escape Events & Kremwerk Invite you to Escape With...

Matt Lange
https://www.facebook.com/mattlangeaudio/
http://www.mattlange.net
http://soundcloud.com/mattlange
http://www.twitter.com/mattlange

Support from...

Cory Simpson [DEPTH]
https://www.facebook.com/corysimpsonbodypiercing
https://soundcloud.com/djcorysimpson

Frida K
https://www.facebook.com/fridakmusic/
https://soundcloud.com/frida-k-music

Lady Auds
https://www.facebook.com/LadyAuds/
https://soundcloud.com/ladyauds

Sunriser
https://www.facebook.com/SUNRISERSEATTLE/
https://soundcloud.com/sunrisermusic

Kremwerk
1809 Minor Ave.
Seattle, WA
http://kremwerk.com/
21+

………………………………………

About...
MATT LANGE
L.A.-based producer/composer/DJ Matt Lange delivers a darkly melodic breed of electronic music rooted in raw energy and emotion. Hand-selected by deadmau5 as one of the latest signings to his label mau5trap, the lifelong musician now makes his full-length debut with the groove-heavy, intricately textured Ephemera. As his first album release for mau5trap, Ephemera's title reflects the restless innovation inherent in Lange's musicianship. "The album's really a snapshot of where I am right now as an artist," Lange explains. "It's this turning point where I have one foot in the world of dance music, and the other foot in a whole different direction."

………………………………………

Sign up for the Kremwerk + Timbre Room Complex mailing list on our website, to stay in the loop about upcoming events, ticket giveaways and more!
http://www.kremwerk.com/

………………………………………

Kremwerk strives to be a safe space. The following actions or display of behavior will not be tolerated: bigotry, racism, sexism, transphobia, homophobia, misogyny, ableism, as well as the disrespect of the rules of consent. Our staff is here to support you.

Kremwerk is currently not an ADA accessible space. Club entry is through a flight of 12 metal stairs, with two small steps leading into the main part of the club. We have 2 restrooms with a total of 3 stalls and 1 urinal, all gender neutral. If you would like access to single-stall restrooms, please don't hesitate to ask our door & security to allow entry upstairs into Timbre Room, which has 2 single-stall gender-neutral restrooms.

For any questions about safety & accessibility, please email info@kremwerk.com.