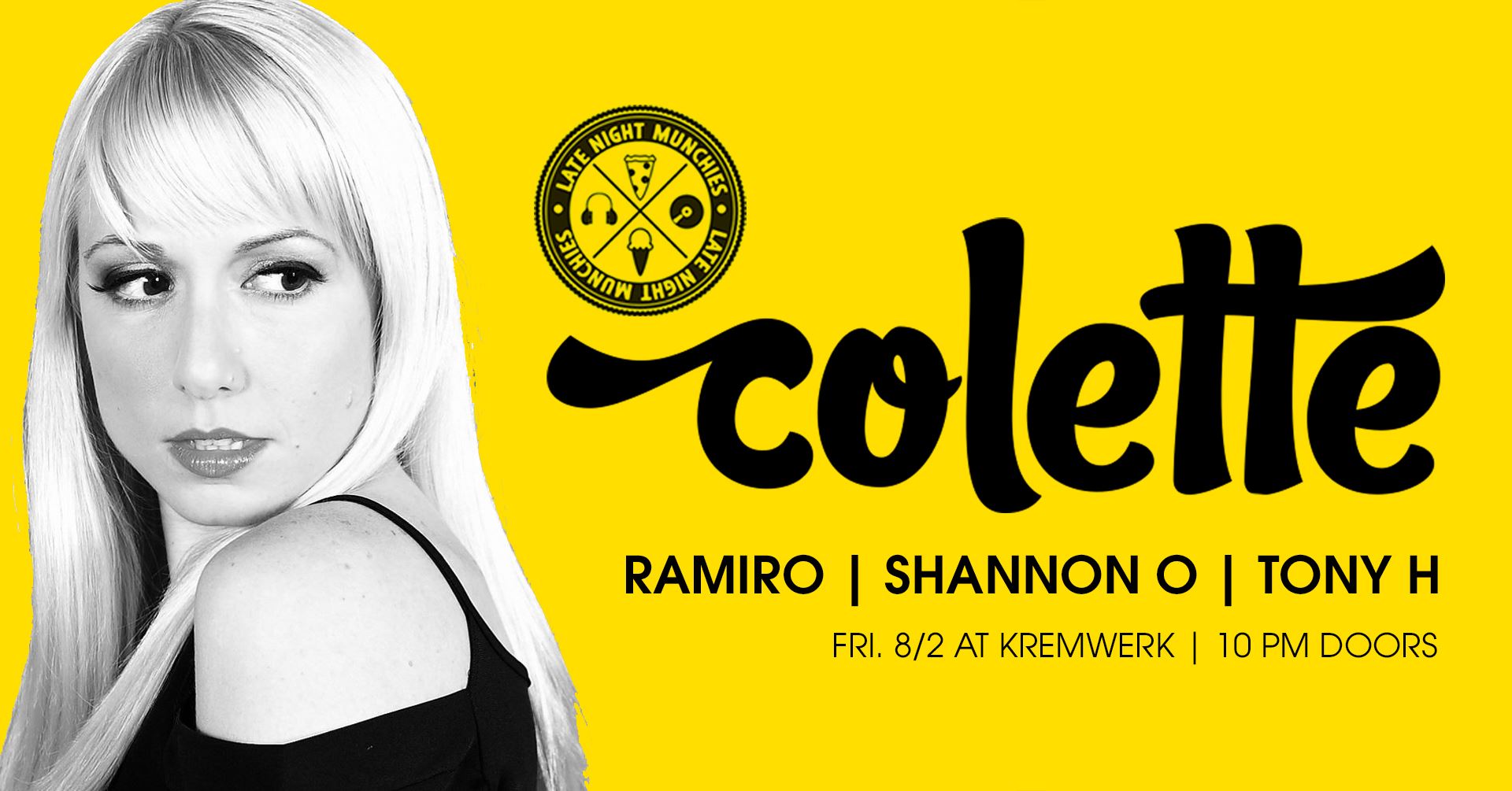 LNM: Colette w/ Ramiro, Shannon O & Tony H
Late Night Munchies & Kremwerk welcome you to an evening with...

Colette [CANDY TALK, APT]
https://soundcloud.com/djcolette
https://www.residentadvisor.net/dj/djcolette

with...

Ramiro [Uniting Souls]
https://soundcloud.com/ramiroseattle

Shannon O [Crate Radio]

Tony H [Late Night Munchies]
https://soundcloud.com/dj-tonyh


Kremwerk
1809 Minor Ave.
Seattle, WA
http://kremwerk.com/
21+

………………………………………

About...
COLETTE
DJ, producer, vocalist – Colette has grown from an integral part of the Chicago underground into a breakout musical triple-threat. On the decks, Colette combines the tunefulness of classic pop songs with the thump of underground house of her hometown. She was voted one of the best DJ's in Los Angeles by LA Times and her love and devotion to the authentic house sound of hometown Chicago can be heard in every set, and generations of diehard fans never fail to appreciate it. Colette's album 'Hypnotized' was one of the most downloaded House dance albums on iTunes featuring the singles "What Will She Do For Love", "Didn't Mean To Turn You On" and "Feelin' Hypnotized". Billboard named her album 'When The Music's Loud' one of the top 20 albums its year of release. Check out her funky new mix for Traxsource Live!

………………………………………

Sign up for the Kremwerk + Timbre Room Complex mailing list on our website, to stay in the loop about upcoming events, ticket giveaways and more!
http://www.kremwerk.com/

………………………………………

Kremwerk strives to be a safe space. The following actions or display of behavior will not be tolerated: bigotry, racism, sexism, transphobia, homophobia, misogyny, ableism, as well as the disrespect of the rules of consent. Our staff is here to support you.

Kremwerk is currently not an ADA accessible space. Club entry is through a flight of 12 metal stairs, with two small steps leading into the main part of the club. We have 2 restrooms with a total of 3 stalls and 1 urinal, all gender neutral. If you would like access to single-stall restrooms, please don't hesitate to ask our door & security to allow entry upstairs into Timbre Room, which has 2 single-stall gender-neutral restrooms.

For any questions about safety & accessibility, please email info@kremwerk.com.