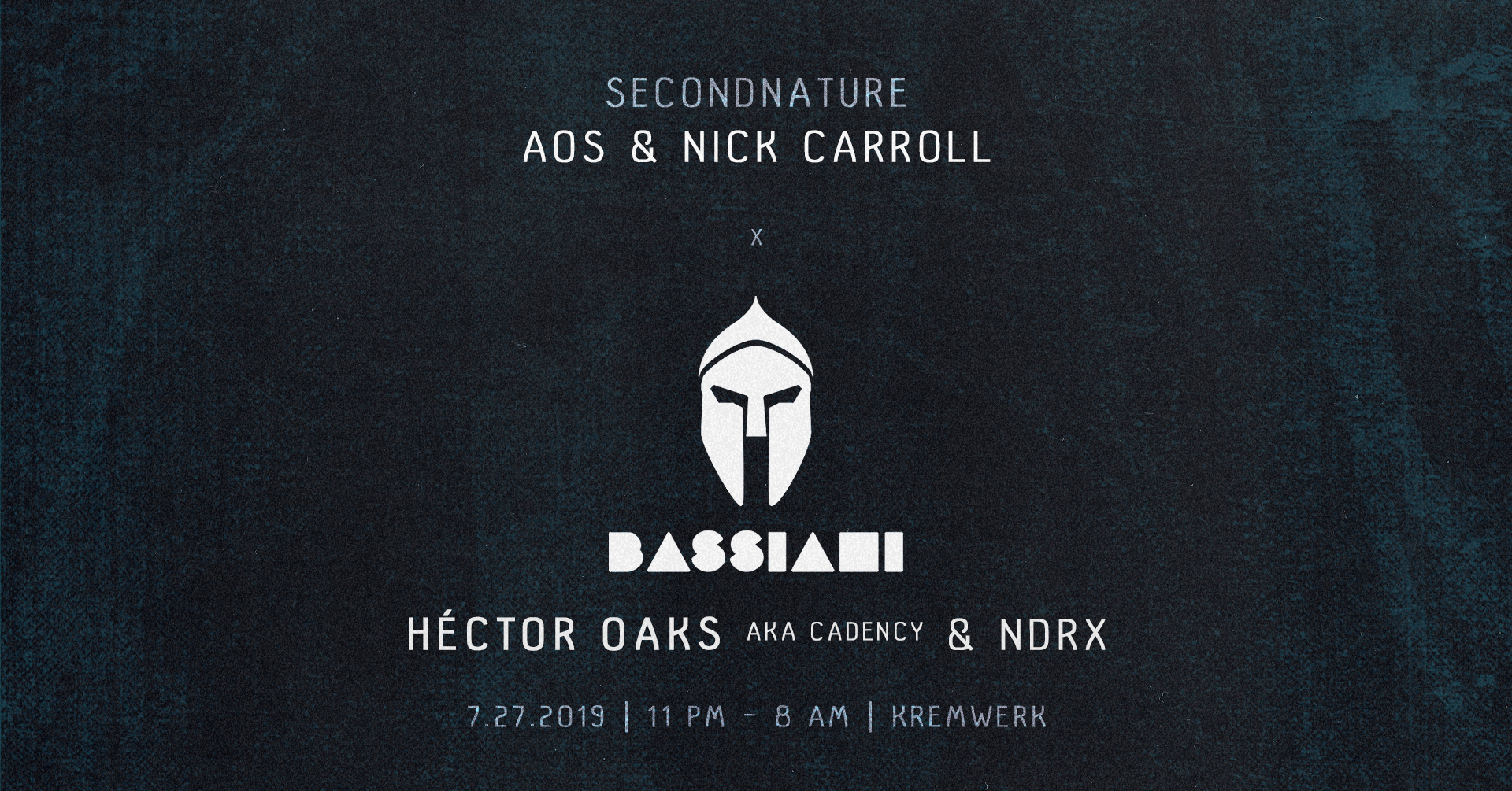 secondnature x Bassiani
Sat, Jul 27, 2019 at 11pm
secondnature is thrilled to present an all-night affair with residents from Bassiani, a bastion for free-expression and musical hedonism, which has regularly been cited as one of the best clubs in the world. In Tbilisi, it has "become a catalyst for progressive politics in a conservative society" (The Guardian), playing an active role in promoting and organizing protests.
Join us as Héctor Oaks and Ndrx share some of the club's relentless musical energy that drives the dancers of Bassiani long into the night in a transformed Kremwerk space like you've never seen it before...
Representing Bassiani...
Héctor Oaks
https://www.residentadvisor.net/dj/hectoroaks
Ndrx
https://www.residentadvisor.net/dj/ndrx
Representing secondnature…
Aos
https://soundcloud.com/aosseattle
Nick Carroll
https://soundcloud.com/ncarr0ll
Kremwerk
1809 Minor Ave.
Seattle, WA
http://kremwerk.com/
21+
………………………………………
About…
HÉCTOR OAKS
As one of Europe's most wanted underground weapons, Hector Oaks style stands out for playing the unexpected and the highly engaging. As DJ, producer and label head his take on techno resonates by combining the contemporary with hand-picked tracks from the history of rave culture. Héctor Oaks has been behind the turntables for almost half of his life. Gaining his first credits in Madrid's underground, it was when he relocated to Berlin, that his DJing really took off. Not long after his move to the German capital, the trained sound engineer released his first vinyl releases on KEY VINYL. This kick-start into the fertile soils of Berlin's underground lay the foundation of a career, that has taken off internationally in the past years. It's the dancefloors that taught this DJ his outstanding empathy and intuition for the sounds, that make a crowd vibrate. Constant practice and the dedication to music shaped his style. Known for his stamina and mixing skills, it is his selection that truly stands out. What seems eclectic on the first sight, is a well-curated mix of vinyl gems. Hector Oaks seeks for the sweet spot between tracks that are connected not by genre but vibe and style. As vinyl only DJ, his selection thrives on Oaks' passion for digging in record shops all around the world. Not to mention the years in Berlin´s infamous Record Loft, a record shop recently revived, that serves the local scene with an outstandingly broad selection of 2nd hand vinyl. When in the mood for a proper rave, you will find Oaks playing under his alias Cadency. The moniker is home to the more explorative side of genres: breaks, ghetto, omphy grooves and a pinch of funk. As Oaks's calls it: techno body music gone pop. Cadency's appearances are rare, so catch them while they're hot. Hector Oaks became a staple of the international techno scene. A steady guest of Berlin's steaming Herrensauna since it's early instalments, he joined as resident when the party moved to techno legend Tresor. With his residency in Tbilisi's very own Bassiani Club, Oaks brings the vibe of Berlin into Europe's eastern epicentre The connection to the scene in Georgia is special. His legendary sets in Bassiani's Horoom are known for their stamina and length. It's these occasions, where the fine selection and skills of Oaks come into their own. As producer Oaks appeared on the club's label, contributing to the well-curated EP (BAS004) with a track not shy to show some emotional motives. OAKS is home to Hector Oaks own releases since its founding in 2016. The platform has seen guests like Prostitutes, Anetha and Ascion. Like Oaks' sets, his productions range from raw straight techno to jacking grooves. All Oaks records are produced for DJing, keeping the crowd in mind. Not so as tools but as songs that can be remembered.
NDRX
An important figure in Tbilisi's electronic music scene, Ndrx is a resident DJ of Bassiani. He has been behind the decks for over a decade, fusing Experimental, Electro, Drum and Bass, and Techno in his sets and has played alongside the likes of Marcel Dettmann, Helena Hauff, and Aleksi Perälä, among others. He is also the founder of "11th Floor," where he teaches an introduction to DJing class.
SECONDNATURE
secondnature is an artist collective focused on bringing expansive electronic music to the Pacific Northwest.
http://secondnatureseattle.com/
………………………………………
Sign up for the Kremwerk + Timbre Room Complex mailing list on our website, to stay in the loop about upcoming events, ticket giveaways and more!
http://www.kremwerk.com/
………………………………………
Kremwerk strives to be a safe space. The following actions or display of behavior will not be tolerated: bigotry, racism, sexism, transphobia, homophobia, misogyny, ableism, as well as the disrespect of the rules of consent. Our staff is here to support you.
Kremwerk is currently not an ADA accessible space. Club entry is through a flight of 12 metal stairs, with two small steps leading into the main part of the club. We have 2 restrooms with a total of 3 stalls and 1 urinal, all gender neutral. If you would like access to single-stall restrooms, please don't hesitate to ask our door & security to allow entry upstairs into Timbre Room, which has 2 single-stall gender-neutral restrooms.
For any questions about safety & accessibility, please email info@kremwerk.com.