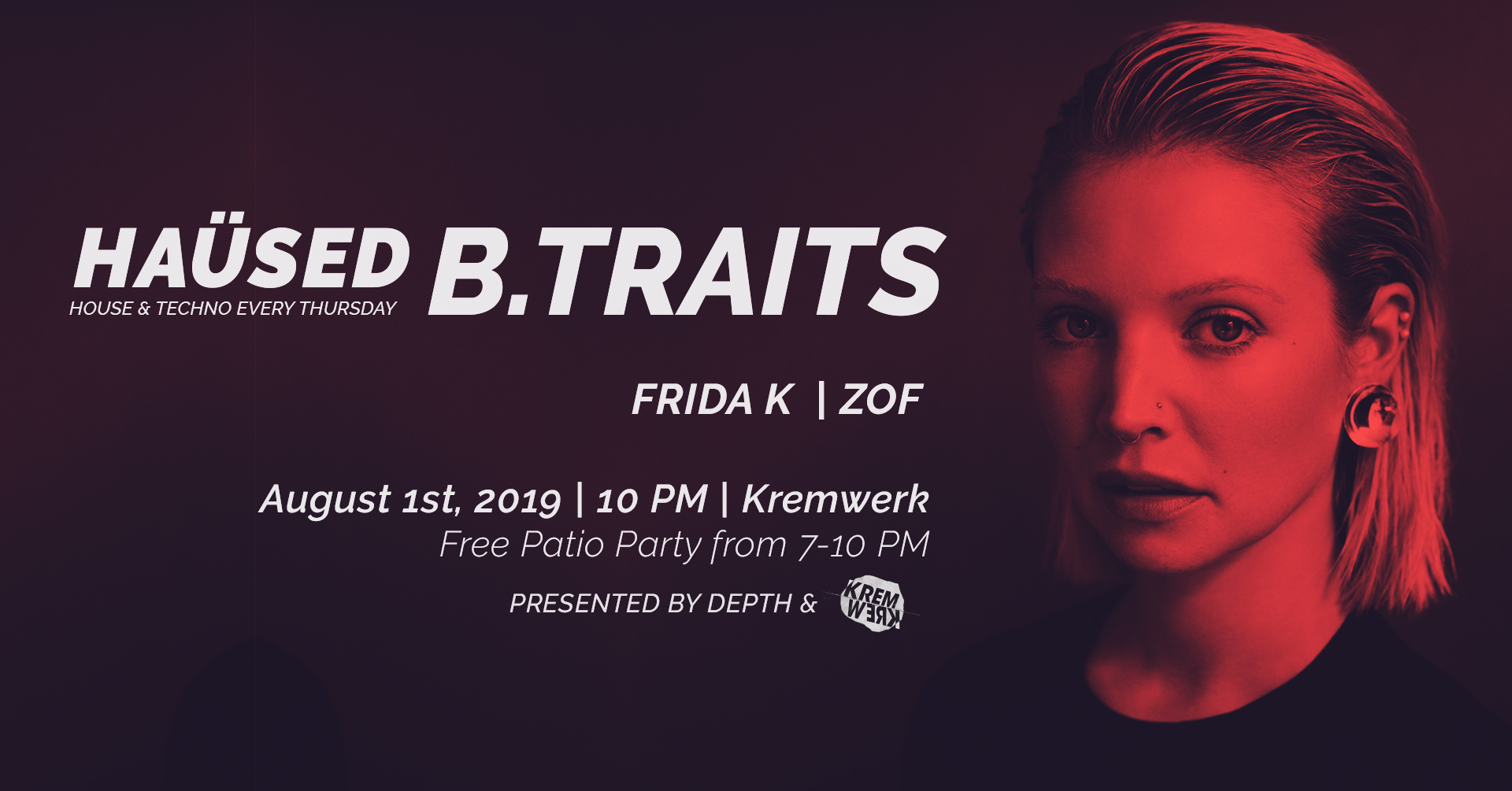 Haüsed x Depth: B. Traits
Haused at Kremwerk, your new weekly destination for house & techno every Thursday 😎. Musical selections by...
B.Traits
https://soundcloud.com/btraits
☀️Join us beforehand for Patio Thursdays upstairs on the Timbre Room Patio!
Happy Hour Specials until 11 PM...
🍺 $8 Beer-Shot Combo
🍹 Discounted Wells
Kremwerk
1809 Minor Ave.
Seattle, WA
http://kremwerk.com/
21+
………………………………………
About…
B. TRAITS
Three intertwining principles that form the foundation of the career of Brianna Price. A journey that has seen her relocate from British Columbia, Canada to London, England; start 'In Toto', her record label; become an established and respected radio broadcaster for BBC Radio 1 through which she vehemently champions cutting edge underground electronic music; cement her reputation as a trusted selector at
countless leading music events; and become an advocate for drug education and nightlife preservation within her adopted home. Underpinning all these achievements is Brianna's passion for sounds from across the musical spectrum, and her now well documented rampant eclecticism.
A significant next step in her continuous path to being one of the most distinguished artists in her field is her own record label: In Toto. A desire for complete artistic freedom and a boundless musical direction lie at the heart of Brianna's decision to open her own imprint, which sees releases ranging from house to techno to electronica, and everything in between. Of her label, B. Traits has said: "It is a vehicle for me to put out my own and other artists' music on both vinyl and digital format. Music that I make, music that I love and music that I wish to share with you."
Brianna utilizes her influential position to full effect by tackling pressing issues like the need for widely accessible drug safety information, as well as fighting passionately for a rich and progressive club scene in the UK. Her latest project, an event series titled Paciphonic, explores a combination of ambient and
minimalist music, sound and frequency activations, and group meditation. She aims to effectively bridge the gap between what she does musically already as a selector, producer, curator, and presenter, and combine it with her knowledge and practice in self-development and life balance. Through Paciphonic, she hopes to build an inclusive community, to collectively enhance and improve our well-being.
A skilled producer, DJ and presenter. You should certainly expect the unexpected where B.Traits is concerned – but if there's something you can predict, it's that whatever comes next will be unique, and it will be big.
………………………………………
Sign up for the Kremwerk + Timbre Room Complex mailing list on our website, to stay in the loop about upcoming events, ticket giveaways and more!
http://www.kremwerk.com/
………………………………………
Kremwerk strives to be a safe space. The following actions or display of behavior will not be tolerated: bigotry, racism, sexism, transphobia, homophobia, misogyny, ableism, as well as the disrespect of the rules of consent. Our staff is here to support you.
Kremwerk is currently not an ADA accessible space. Club entry is through a flight of 12 metal stairs, with two small steps leading into the main part of the club. We have 2 restrooms with a total of 3 stalls and 1 urinal, all gender neutral. If you would like access to single-stall restrooms, please don't hesitate to ask our door & security to allow entry upstairs into Timbre Room, which has 2 single-stall gender-neutral restrooms.
For any questions about safety & accessibility, please email info@kremwerk.com.