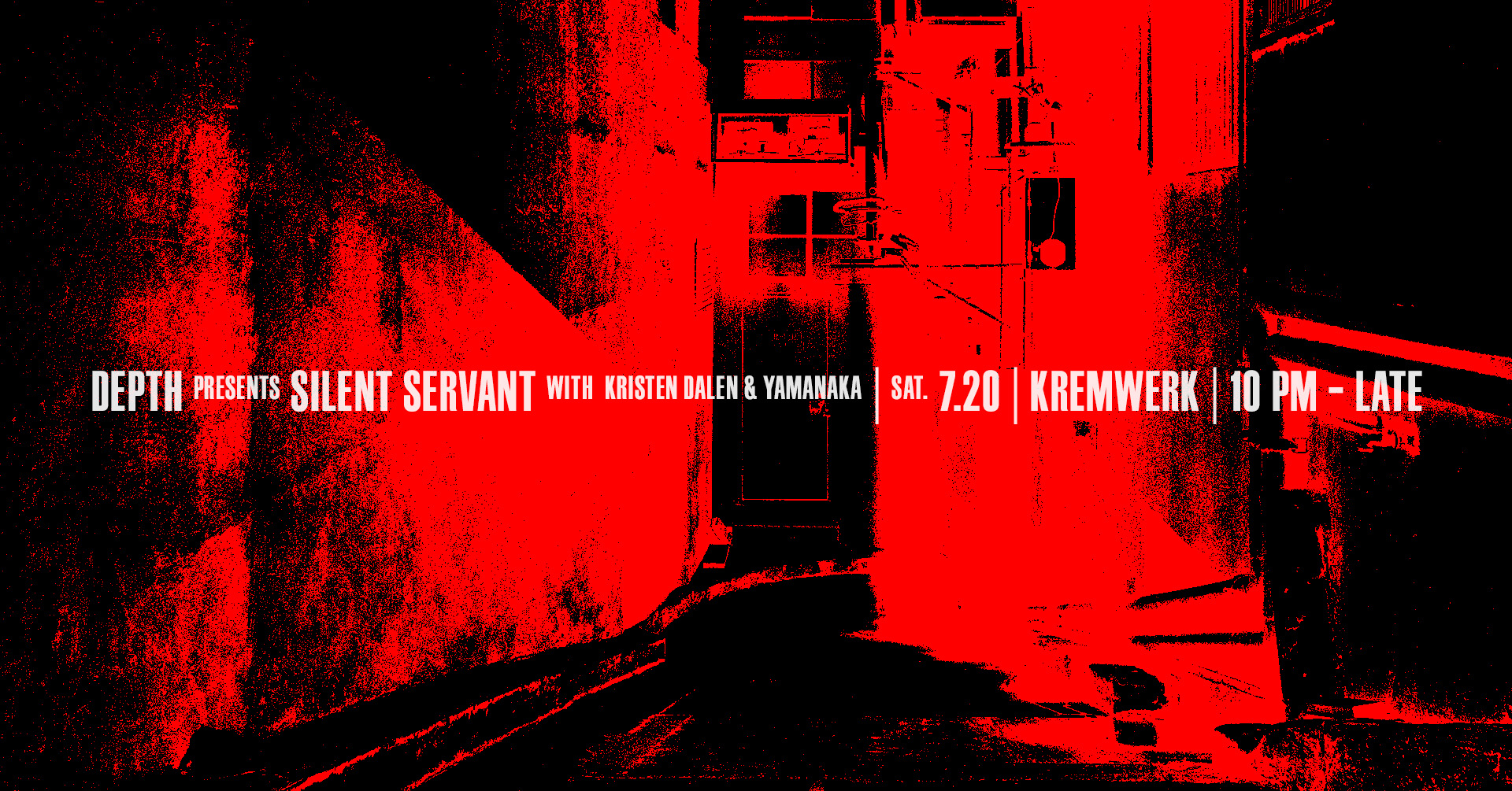 Depth: Silent Servant w/ Kristen Dalen & Yamanaka
Sat, Jul 20, 2019 at 10pm
DEPTH Seattle presents an evening with...
SILENT SERVANT
https://www.residentadvisor.net/dj/silentservant
KRISTEN DALEN
https://soundcloud.com/kristendalen
YAMANAKA
https://soundcloud.com/raymondyamanaka
………………………………………
Kremwerk
1809 Minor Ave.
Seattle, WA
http://kremwerk.com/
21+
………………………………………
Sign up for the Kremwerk + Timbre Room Complex mailing list on our website, to stay in the loop about upcoming events, ticket giveaways and more!
http://www.kremwerk.com/
………………………………………
About...
SILENT SERVANT
Silent Servant's prolific output as a producer and artist has laid the groundwork for much of the most ambitious and forward thinking electronic music of today. As a member of the now defunct Sandwell District, he helped force the hand of change with uncompromising ability. And still, he continues to do so with even greater strength and success.
No time has been wasted in the wake of Sandwell District's 2011 demise. Along with Regis and James Ruskin, Silent Servant founded the Jealous God label. In it's short existence, they have already cut-up and reinterpreted many of the conventions of the techno world, forging a unique identity in the process. With it's highly conceptual aesthetic and relentless dedication to experiment, Jealous God is a flag-bearer for the contemporary electronic avant-garde and a loyal ally to all mutant experimentalists.
Along with Jealous God, Silent Servant produces and curates for the Downwards imprint, which, throughout it's 20 year history, has continued to remain at the forefront of the underground techno world. Inherently obscure, their operation is indirect, and easily they deceive introspection. Consciously working as outsiders and avoiding club lavishness, they earn their respect with less mercy than the hyena his food.
While insincerity remains the safety of many, Silent Servant's own productions are brutally honest and resolute, rendering irrelevant those mongering for light. Deeply pensive and forward thinking, his sound is marked by a distinct blend of the disparate and divergent. An appreciation of warehouse techno, industrial noise and post-punk are evident, yet challenged and reworked to form a uniquely modern style - a vitality so controlled and concentrated that it captivates immediately.
His live sets are another matter of inventiveness. The superfluous eliminated, Silent Servant has, for years, been rewiring the minds and moving the bodies of those seeking the most meaningful and potent energies that electronic music has to offer.
The future suggests no fatigue or surrender. Having developed a special kind of discipline, Silent Servant will no doubt continue to drive forward, bringing the truly adventurous with him. His criterion of action is freedom of movement, timelessness of expression, freedom for transgression; holding truth at most high. To that end, there is no compromise.
………………………………………
Kremwerk strives to be a safe space. The following actions or display of behavior will not be tolerated: bigotry, racism, sexism, transphobia, homophobia, misogyny, ableism, as well as the disrespect of the rules of consent. Our staff is here to support you.
Kremwerk is currently not an ADA accessible space. Club entry is through a flight of 12 metal stairs, with two small steps leading into the main part of the club. We have 2 restrooms with a total of 3 stalls and 1 urinal, all gender neutral. If you would like access to single-stall restrooms, please don't hesitate to ask our door & security to allow entry upstairs into Timbre Room, which has 2 single-stall gender-neutral restrooms.
For any questions about safety & accessibility, please email info@kremwerk.com.