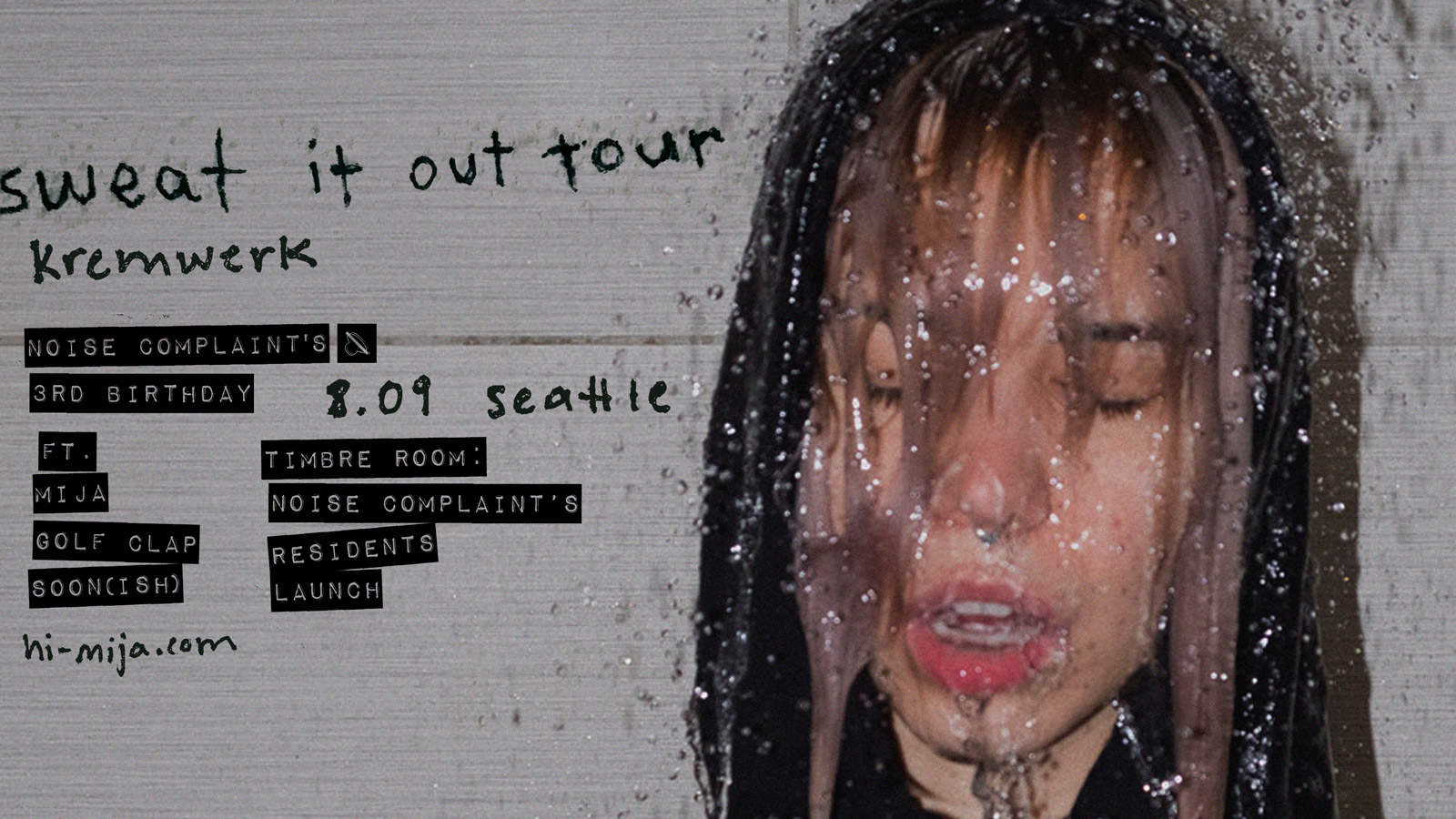 Noise Complaint's 3rd Bday ft. Mija & Golf Clap
We're turning 3!! 🎂🎉 Where did the time go?? We thought we might as well throw one heck of a party in celebration of all things Noise Complaint...

🧜‍♀️MIJA🧜‍♀️
www.facebook.com/djmija
www.soundcloud.com/hi_mija
www.instagram.com/hi_mija
www.twitter.com/hi_mija
www.hi-mija.com

Based out of Downtown Los Angeles, Mija has established herself as an innovative and fresh DJ/Producer. Her roots may be based in house music, but nobody puts Mija in a corner. Her genre­ defying mixtapes and bassline productions keep the masses dancing around the globe.

Mija began her career in her hometown Phoenix, where she became a full time DJ in early 2012. In 2014 she was invited to perform on Kalliope, a Burning Man art car, at Bonnaroo Music Festival. It was on that car where she serendipitously ran into Skrillex and played a b2b sunrise set. Just a couple months later, Mija won a mix competition to play on the Black Butter Records stage at TomorrowWorld, where her set was recorded, and truly helped build a steady platform for her career.

Known for her colorful hair and unpredictable yet always groovy sets, Mija has built quite the reputation for herself within the industry. Since her career has taken off, she's played just about every festival and venue you can think of across the globe. Having her grace the decks at our 3rd Birthday party is the perfect fit and we can't wait to see what she brings to the table!


⛳️👏️Golf Clap⛳️👏️
www.facebook.com/golfclapdet
https://www.instagram.com/golfclapdet
www.soundcloud.com/golfclapdet
www.twitter.com/golfclapdet

The boys from Detroit played our third party ever, and we've become good homies with them, become family over the years. It's only fitting they finally play one of our birthday parties. We are beyond stoked to be bringing them back out.

With roots in the Detroit underground, booking local and international DJs to play at their own parties, Golf Clap have established themselves as in-demand artists and performers in their own right, via an irresistible combination of hard work and talent.

Releases on Toolroom, Relief, Simma Black, their own Country Club Disco imprint, and Kerri Chandler's Madtech have announced Golf Clap as a musical force to be reckoned with - With fans including Carl Cox, Oliver Heldens, Claude VonStroke, Danny Howard and Green Velvet. In early 2017, this recognition peaked with Pete Tong naming their collaboration with Eyes Everywhere 'Bout That' as his Essential New Tune. After playing the track five weeks running on his BBC Radio 1 show, 'Bout That' was released as part of Toolroom's Ibiza album in May 2017.

Whether they're playing clubs, warehouse shows or at an impromptu after-party – which they more than likely arranged themselves – the sheer love these guys have for playing records and making people dance is evident.

As with every movement worth being a part of, Golf Clap's self-made community started small: a group of like-minded artists and fans giving one another exactly what they needed to throw incredible parties. But as their profile has increased, word has spread both across the US and internationally. Go to any electronic music festival now and you'll find a strong showing for their Country Club Disco merchandise and an ever-growing army of fans.


LOCAL SUPPORT FROM:
Soon(ish)

———————————————————————
UPSTAIRS IN THE TIMBRE ROOM

🔇 NOISE COMPLAINT RESIDENTS LAUNCH 🔇

That's right! After 3 years we're finally adding some Resident DJ's to our roster...stay tuned for the announcement!

——————————————————————-
Tickets avail NOW while they last...

Ticket Prices:
$15 Tier 1
$20 Online Pre-Sale (while available)
$25 Day of Show @ Door

21+

—
🔇 ABOUT NOISE COMPLAINT 🔇

Gone is the party where the music and the people at the party mattered more than making money. As Electronic Dance Music has exploded in popularity over the last several years, so have crowds and ticket prices along with it. In the beginning, events were held in underground, often intimate venues. It was about the music, and it was about each other.

Noise Complaint is taking it back to its roots, bringing the people quality, dance floor focused house and techno all while pushing that party-don't-stop vibe that everyone loves. We're bringing in huge talent - DJs and producers that are well known and respected but that we also personally vibe with. We're doing this at a small price, and in an intimate space. It's about the music for us, it's about the party and the vibe and the memories and friends you will make. Every Noise Complaint should be the best party you've been to since well, the last Noise Complaint.

WE'RE MORE THAN A PARTY, WE'RE A MOVEMENT.

Join us 2nd Fridays at Kremwerk and become part of the family.