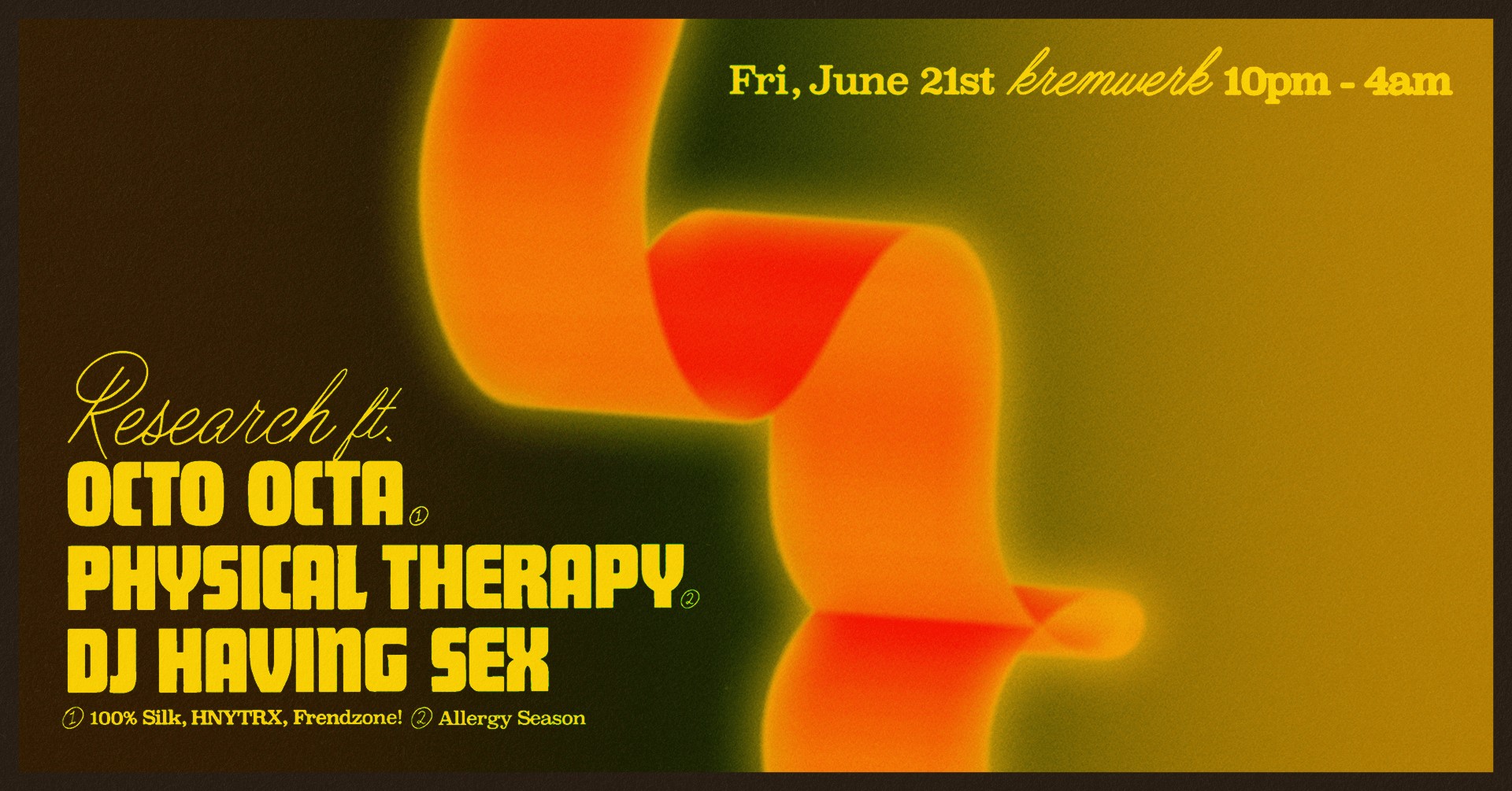 Research ft. Octo Octa & Physical Therapy
Fri, Jun 21, 2019 at 10pm
Research is excited to present an evening with...

Octo Octa
https://soundcloud.com/octoocta

Physical Therapy
https://soundcloud.com/physical-therapy

DJ Having Sex
https://soundcloud.com/havingsex
Get Tickets: bit.ly/ResearchOctoOcta
Discounted Combo Tickets are available to get into Tremulant Pres. MkO (sbcltr, LA) as well, which is happening at the same time (upstairs) in Timbre Room.


Kremwerk
1809 Minor Ave.
Seattle, WA
http://kremwerk.com/
21+

………………………………………

Kremwerk
1809 Minor Ave.
Seattle, WA
http://kremwerk.com/
21+

………………………………………

About...
OCTO OCTA
It shouldn't be surprising that Brooklyn-based producer Octo Octa (née Maya Bouldry-Morrison) had already logged tireless years as a fringe IDM artist and sound designer before her debut EP Let Me See You lasso'd a mighty wave of international house-heads to the dance-floor and helped push underground house label 100% Silk onto everyone's radar in 2011. Seven records later, which include a misty deep-house slow-burner in the Where Did You Go/Through The Haze 12″ for Chicago-based, Smartbar DJ Steve Mizek's Argot imprint and the soaringly luxurious More Times EP for German powerhouse Running Back, Bouldry-Morrison's finely-tuned marriage of exquisite compositional flare, meticulously-sculpted sonics, and primal dance-floor functionality has earned her a Red Bull Music Academy residency in Manhattan, which found the producer working closely with Harald Bjork and Throwing Snow, as well as tours across the world that included coveted gigs at Berlin's Panorama Bar, Frankfurt's Live At Robert Johnson, and Barcelona's Sonar Festival.
Fresh off of having SPIN Magazine herald percussive floor-burner "Cause I Love You" as one of the 50 Best Dance Songs Of 2014, Octo Octa currently has forthcoming coming 12″s prepped for DeepBlak and Stay Underground It Pays and is preparing for another year of pushing her unique sonic perspective and shimmering club-ready earworms through soundsystems across the world.
PHYSICAL THERAPY
Physical Therapy is the New Jersey born-and-raised producer/DJ, and head of the Allergy Season label. Physical Therapy is known for a constantly shifting and abstracted take on club music, from bongo-infused techno to breakbeat science, and has over 20 releases to his name on labels including Liberation Technologies, Unknown to the Unknown, and Nonplus. PT has also put out music under many aliases including Kirk the Flirt & Peter Pressure and collaborations with Michael Magnan (as Fatherhood), with LA-4A (as PTA), and with Matrixxman. He currently resides in Queens, NY where he holds monthly residency at the club Nowadays.

………………………………………

Research seeks to provide a safer space for attendees to thrive on the dancefloor. Those who exhibit racist, sexist, homophobic, transphobic, ableist, ageist, and/or physically/sexually/verbally aggressive behavior will be bounced for the night and potentially barred from future events. If you experience any of the above please contact a member of Kremwerk staff.

Thank you for supporting underground dance music in Seattle.
If you're down with the cause, please invite your friends to this event / spread the word ♥ See you on the dancefloor! 👠

………………………………………

Kremwerk strives to be a safe space. The following actions or display of behavior will not be tolerated: bigotry, racism, sexism, transphobia, homophobia, misogyny, ableism, as well as the disrespect of the rules of consent. Our staff is here to support you.

Kremwerk is currently not an ADA accessible space. Club entry is through a flight of 12 metal stairs, with two small steps leading into the main part of the club. We have 2 restrooms with a total of 3 stalls and 1 urinal, all gender neutral. If you would like access to single-stall restrooms, please don't hesitate to ask our door & security to allow entry upstairs into Timbre Room, which has 2 single-stall gender-neutral restrooms.

For any questions about safety & accessibility, please email info@kremwerk.com.