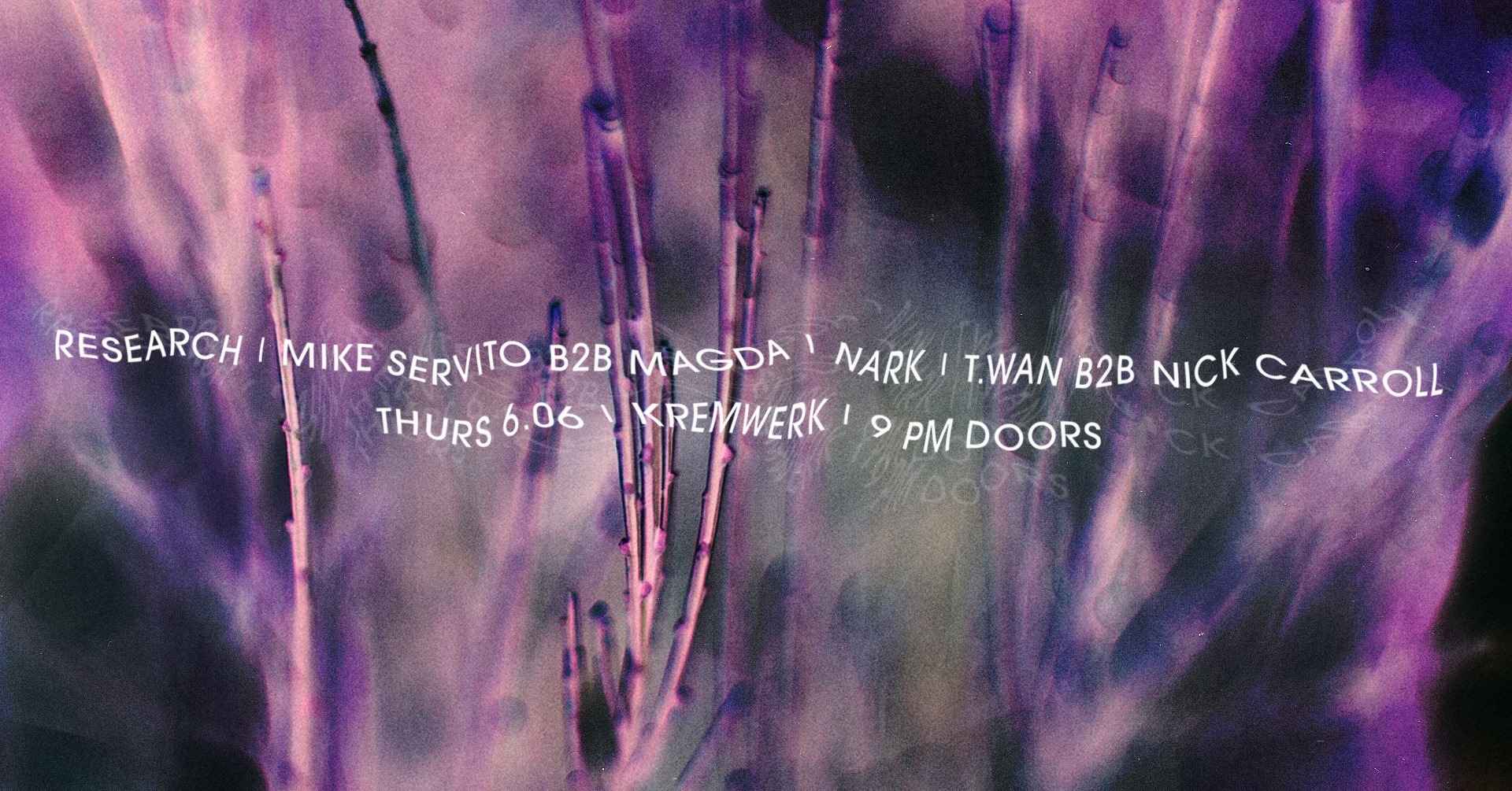 Research: Mike Servito B2B Magda
Research is excited to present an evening with...

Mike Servito B2B Magda
https://www.residentadvisor.net/dj/mikeservito
https://www.residentadvisor.net/dj/magda

Nark
https://soundcloud.com/nark

T.Wan B2B Nick Carroll
https://soundcloud.com/tiffwanee
https://soundcloud.com/ncarr0ll

Get Tickets: ???????

Kremwerk
1809 Minor Ave.
Seattle, WA
http://kremwerk.com/
21+

………………………………………

Research seeks to provide a safer space for attendees to thrive on the dancefloor. Those who exhibit racist, sexist, homophobic, transphobic, ableist, ageist, and/or physically/sexually/verbally aggressive behavior will be bounced for the night and potentially barred from future events. If you experience any of the above please contact a member of Kremwerk staff.

Thank you for supporting underground dance music in Seattle.
If you're down with the cause, please invite your friends to this event / spread the word ♥ See you on the dancefloor! 👠

………………………………………

Sign up for the Kremwerk + Timbre Room Complex mailing list on our website, to stay in the loop about upcoming events, ticket giveaways and more!
http://www.kremwerk.com/

………………………………………

About…
MIKE SERVITO
Mike Servito is from a very special yet temporary and partially lost fertile crescent of techno / house / party DJing. It was a time when raves were still a fresh idea, almost felt like a revolution, and DJs like Claude Young, D Wynn, Derrick Carter and Mike Huckaby were informing an upcoming generation. If you look directly to that inspired generation you will find the lost threads of Detroit Techno, House and beyond, you will find a group of DJs with insanely deep mixing skills, the ability to rock almost any kind of party with an improvisational approach that is so skilled it makes everything seem so well thought out that even they don't know where their set will go. But, it will take you there! In the future, this special generation of deep midwest mixers will be remembered and revered as the wizards they are, long after the trendy players have lost their luster.

Detroit never forgot about Mike Servito, his upfront dirty deep and bitchy taste has had an impact on Detroit nightlife for over a decade. From debuting in 1995 at Dat's Poorboy parties, to being a resident at blackbx and Ghostly's Untitled (along with Derek Plaslaiko, Tadd Mullinix, Matthew Dear, and Ryan Elliott), contributing to the bizarrely popular, wild and free Dorkwave, to blowing minds at Interdimensional Transmissions' No Way Back parties, Servito has made his impression. Moving to Brooklyn, Detroit's loss has been their gain, as he has found a proper home with a residency at The Bunker, and representation by Beyond Booking in North America and Odd Fantastic in Europe.

MAGDA
MAGDA's realm as an artist spans far beyond the typical role of DJ and producer. With an open mind, Magda will try her hand at whatever feels right – from music technology collaborations and events to producing premium Tequila – creating a truly unique, multifaceted expression of herself.

Born in Poland and raised in Detroit, Magda discovered beauty and inspiration in rawurban landscape. In 1998, she joined Minus and began touring as Richie Hawtin's opening DJ.

In 2006, Magda established the Items & Things label and booking agency with Troy Pierce and Marc Houle. In 2017, she launched the Perm event series in Berlin.

Sitting pretty at the crossroads between art and club culture, Perm is a collective initiated by Magda and established in the name of artistic cross-pollination between Perm residents and visiting live performers. Musical guests are curated, then presented within a strong multimedia aesthetic crafted by the team. Guests have included Atom TM, Burnt Friedman, Jan Jelinek, and Cristian Vogel.

Since her first international tour in 2003, Magda established herself globally as an artist known for pushing musical boundaries and expressing her unique style. Magda first made her name as part of Richie Hawtin's Minus label family, releasing her forward thinking DJ mix album 'She's A Dancing Machine' in 2006, followed by her debut artist album 'From The Fallen Page' in 2010. Magda's remix work includes Plastikman and Depeche Mode and DJ mix albums for Fabric, Balance as well as aBBC Radio 1 Essential Mix.

Recently, Magda has produced and performed alongside T.B. Arthur as Blotter Trax and recording with Ectomorph's BMG. Blotter Trax combines modular synthesis, live improvisation and rhythmic exploration. Performance highlights have included live audio-visual duets with video artist Lillevan (Morton Subotnick, Christian Fennesz) and a recent club tour of Japan which saw the duo performing live and transitioning into Magda's signature DJ sets.

Magda is amongst the most high-profile and in demand artists, having proven herself as a consistent, adventurous and exceptional performer, with a knack for bringing music together in unexpected ways.

………………………………………

Kremwerk strives to be a safe space. The following actions or display of behavior will not be tolerated: bigotry, racism, sexism, transphobia, homophobia, misogyny, ableism, as well as the disrespect of the rules of consent. Our staff is here to support you.

Kremwerk is currently not an ADA accessible space. Club entry is through a flight of 12 metal stairs, with two small steps leading into the main part of the club. We have 2 restrooms with a total of 3 stalls and 1 urinal, all gender neutral. If you would like access to single-stall restrooms, please don't hesitate to ask our door & security to allow entry upstairs into Timbre Room, which has 2 single-stall gender-neutral restrooms.

For any questions about safety & accessibility, please email info@kremwerk.com.