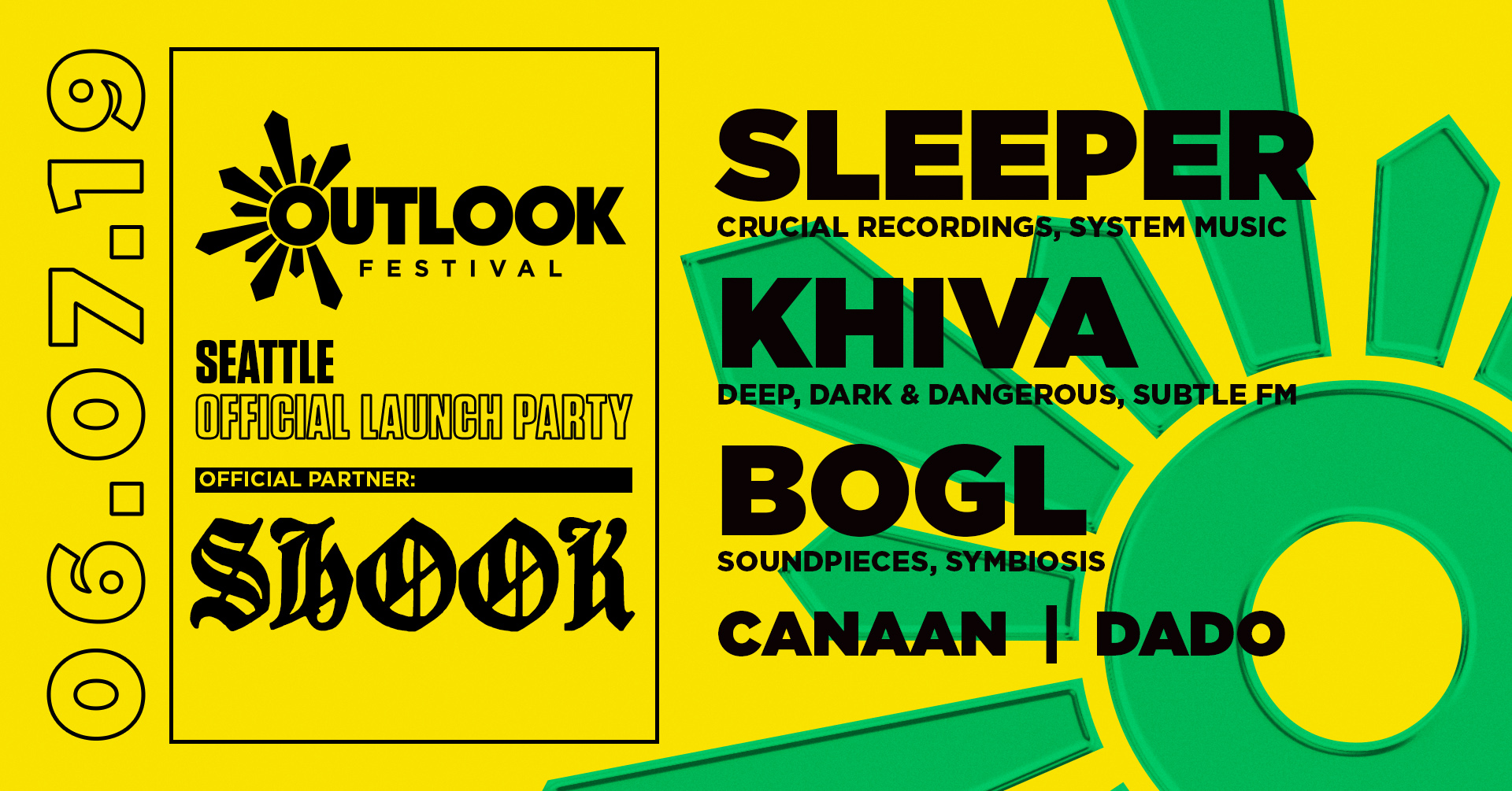 Shook: Sleeper, Khiva, BOGL ~ Outlook Festival Launch Party 2019
SLEEPER
[Crucial Recordings ⎮ System Magic]
https://soundcloud.com/sleepermusic
Since cultivating his lifelong passion for music into a robust and fruitful career within the underground electronic music circuit, Sleeper has metamorphosed into a pivotal player in the history, growth and progression of dubstep's ever-evolving sound. After taking up DJing at the age of fourteen and garnering heavy influences from the techno and jungle spheres, Sleeper followed the natural progression into hip-hop and drum and bass production at around age eighteen. It wasn't until the pacemaking producer was introduced to the early days of dubstep by way of exposure to scene innovators such as Digital Mystikz, Skream and Kode 9 that Sleeper shifted his creative focus to the alluring and dark personality of the powerful underground sound and soon after began receiving radio and club support from the likes of Youngsta, Mala, Rinse FM and BBC Radio. Since then, Sleeper has become a veteran of Distance's Chestplate imprint as well as Kryptic Minds' Osiris label, received a Fabric London residency in the Chestplate Room, played on stages around the world, from Lithuanian warehouses and boats in Paris to Italian farmhouse barns and underground bunkers, and alongside notable figures in the scene like Pinch, Commodo, Caspa, Subscape and Big Narstie.
Although the darker styles of dubstep reign supreme in Sleeper's extensive musical catalogue, he's never shied away from flexing his production muscles, as he's been known for taking his forward-thinking creativity and sound design expertise into other sonic realms while always allowing for his own personality to shine through. Sleeper's openness to and curiosity for exploration through other musical worlds has enabled him to fuse all areas of his taste to cultivate a unique sound system focused style that's mean, bass heavy, razor sharp, and simultaneously teeters the lines between simple and complex in all the right areas. Assuming his latest role as labelhead of Crucial Recordings, the trailblazing producer has extended his tastemaking musical palette to his very own imprint. Since its inception, Crucial has stood as a beacon in the underground dubstep world for unearthing the freshest, standard-setting talent within the scene. Having already delivered releases from Foamplate, Oxóssi, Samba, Eva808, Moonstones, Thelem and Mesck, Sleeper's imprint continues to nurture the progression of the ever-expanding dubstep sound, as it continues to fulfill its vision for pushing multifaceted bass music with each and every release.
KHIVA
[Deep, Dark & Dangerous ⎮ Subtle FM]
Honouring a deep longing to convey a passion that arises from somewhere far beneath a visible reality, Khiva attempts to bring the deep rooted to the surface.
Finding her true love within sonic sculpture, and nurturing a propensity toward the emotionally fuelled and often dramatic, dubstep and bass driven 140-centric styles offer a natural focal point, but in no way a limit, for her musical exports. Intricately crafting low frequency soundscapes and charging beats while fervently utilizing contrasts, she to hopes of invoke a true experience in the listener, whatever that may be.
With a current monthly show on London based radio station Subtle FM, praised festival appearances, locking in weighty slots alongside some of dubstep's finest acts and various international guest mixes, her intentional selections bring forth a contagious energy through lively and dynamic mixes, using the decks as a tool to channel the profound, moving and unexplainable in an experience through sound that goes much deeper than the eye can see.
With a rapidly expanding tour schedule in 2018 succeeding the release of her debut EP, she continued to push boundaries and make powerful impressions at some of bass music's top events across the map, delivering standout sets at festivals such as Shambhala Music Festival (CA), Outlook Festival (EU), and Northern Bass (NZ). Generating significant waves with her latest productions and compelling performances, her unique sound continues to evolve and mark Khiva as a force to be reckoned with. Stepping into 2019 with a fresh flame, it's easy to see that the young producer's journey is only just beginning.
BOGL
[Soundpieces ⎮ Symbiosis]
www.facebook.com/boglofficial/
www.soundcloud.com/griffinbogl
BOGL is a ninja, DJ and music enthusiast originally from Las Vegas, NV. With his parties, Soundpieces, Bogl has been able to host and play alongside current left-field artists from around the world in San Francisco and beyond for years. His charisma is like that of a friendly ghost; he is kept close to your heart as one would a godfather, while basically existing as an untouchable phenomenon. He's become known for appearing out of what seems like thin air to play an eclectic selection of bass heavy productions, take you to an unfathomable dimension, then suddenly vanishing to another far off place. It make us wonder how it's even possible for Bogl to exist.
His career has taken him literally all over the globe touring alongside artists such as Diplo and Truth, he's been a resident at Symbiosis Gathering and performing Outlook, Shambhala, and BassCoast festival several times among others, and makes frequent stops anywhere from Asia, to Europe, to Canada. With his career as a DJ nearing ten years, Bogl is moving forward to release secret production projects with fellow bass music artists, while leading the rapid expansion of Soundpieces that already has a long-term established legacy of blowing minds with their "good fortune" music experiences.
Support from...
Canaan
www.soundcloud.com/canaan_dubs
Dado
Make sure to show up before 11PM to be entered into the drawing for your chance to win TWO festival passes to Outlook Festival 2019!
∻∻∻∻∻∻∻∻∻∻∻∻∻∻∻∻∻∻∻∻∻∻∻∻∻∻∻∻∻
Kremwerk
1809 Minor Ave.
Seattle, WA
21+
∻∻∻∻∻∻∻∻∻∻∻∻∻∻∻∻∻∻∻∻∻∻∻∻∻∻∻∻∻
Sign up for the Kremwerk + Timbre Room Complex mailing list on our website, to stay in the loop about upcoming events, ticket giveaways and more!
∻∻∻∻∻∻∻∻∻∻∻∻∻∻∻∻∻∻∻∻∻∻∻∻∻∻∻∻∻
Kremwerk strives to be a safe space. The following actions or display of behavior will not be tolerated: bigotry, racism, sexism, transphobia, homophobia, misogyny, ableism, as well as the disrespect of the rules of consent. Our staff is here to support you.
Kremwerk is currently not an ADA accessible space. Club entry is through a flight of 12 metal stairs, with two small steps leading into the main part of the club. We have 2 restrooms with a total of 3 stalls and 1 urinal, all gender neutral. If you would like access to single-stall restrooms, please don't hesitate to ask our door & security to allow entry upstairs into Timbre Room, which has 2 single-stall gender-neutral restrooms.
For any questions about safety & accessibility, please email info@kremwerk.com.