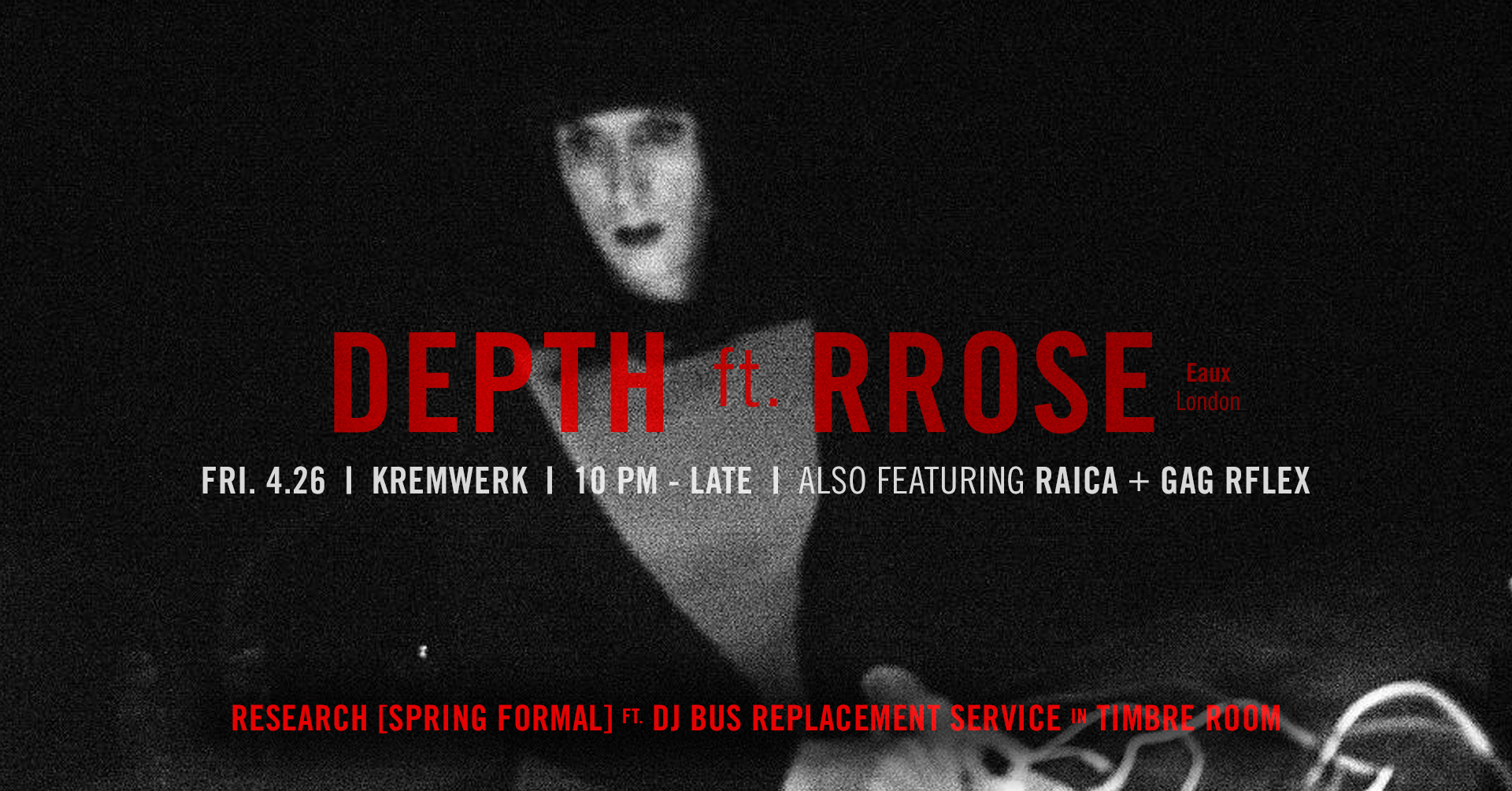 Depth ft. Rrose


w/ Raica & Gag Reflex

DEPTH Seattle invites you to an evening with...

Rrose [Eaux ⎮ London]
http://thebunkerny.com/artists/rrose

Raica [Further Records]
https://soundcloud.com/raicamusic

Gag Reflex [Bloom]
https://soundcloud.com/djgagreflex

Research [Spring Formal] ft. DJ Bus Replacement Service in Timbre Room.

………………………………………

Kremwerk
1809 Minor Ave.
Seattle, WA
http://kremwerk.com/
21+

………………………………………

Sign up for the Kremwerk + Timbre Room Complex mailing list on our website, to stay in the loop about upcoming events, ticket giveaways and more!
http://www.kremwerk.com/

………………………………………

About...
RROSE
Born 1969. Died 1909. After the release of three EPs and an album on the Sandwell District label in 2011 and the launch of her own Eaux imprint in 2012, productions out on Further Records, Stroboscopic Artifacts, Infrastructure New York and Khemia Records including collaborations with Bob Ostertag, Lucy, and others, Rrose has found a unique niche in the worldwide techno underground while remaining equally situated in the experimental and avant-garde artistic communities. His tracks incorporate ideas from early drone and minimalist music as prominently as they do the history of dance music. Whether as a DJ, live performer, or producer, Rrose crafts sonic ecosystems with patience and attention to detail, allowing the music to unfold gradually while tapping into deep, uncharted recesses of both the mind and body.

………………………………………

Kremwerk strives to be a safe space. The following actions or display of behavior will not be tolerated: bigotry, racism, sexism, transphobia, homophobia, misogyny, ableism, as well as the disrespect of the rules of consent. Our staff is here to support you.

Kremwerk is currently not an ADA accessible space. Club entry is through a flight of 12 metal stairs, with two small steps leading into the main part of the club. We have 2 restrooms with a total of 3 stalls and 1 urinal, all gender neutral. If you would like access to single-stall restrooms, please don't hesitate to ask our door & security to allow entry upstairs into Timbre Room, which has 2 single-stall gender-neutral restrooms.

For any questions about safety & accessibility, please email info@kremwerk.com.