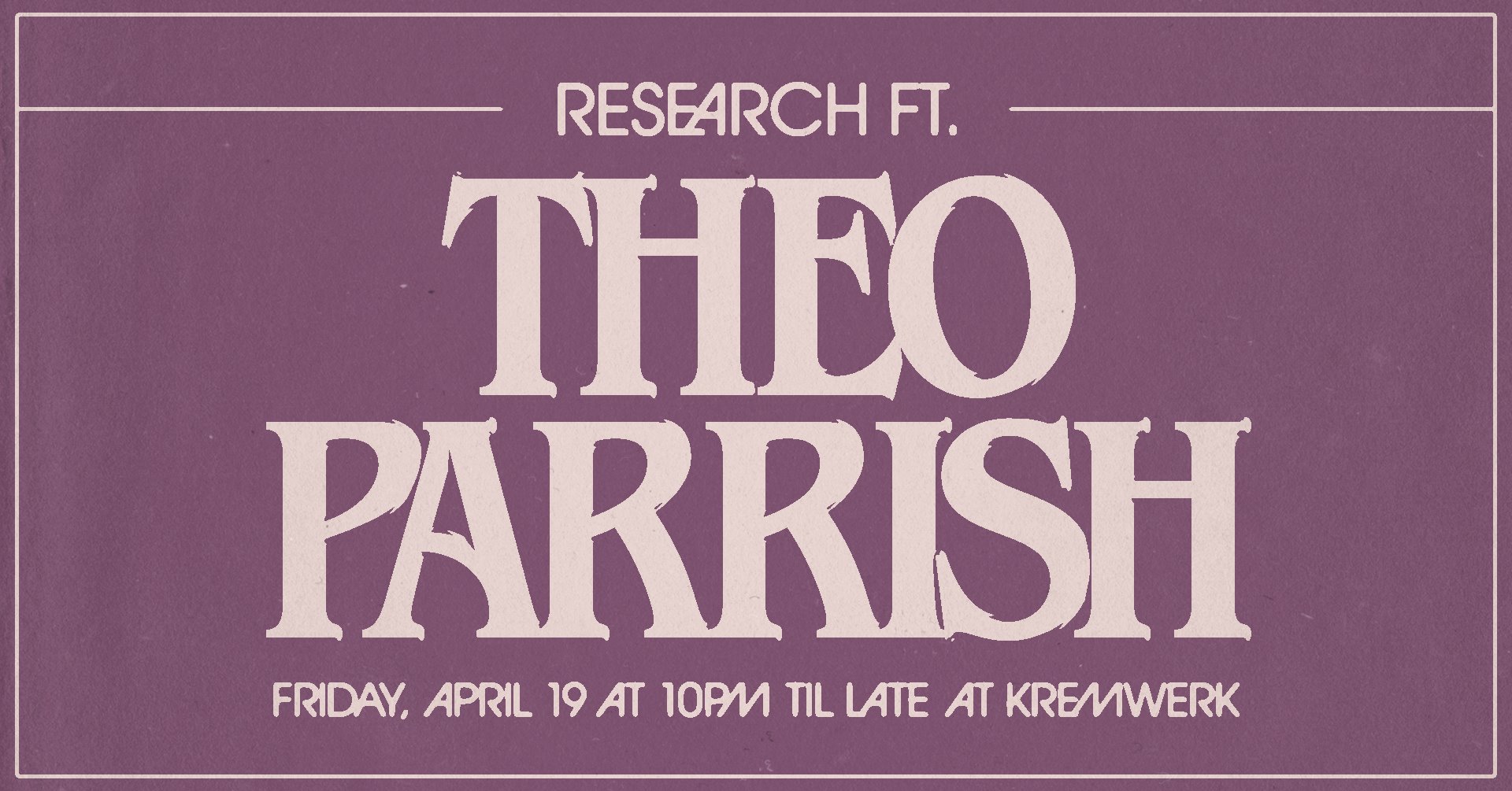 Research ft. Theo Parrish
Advanced tickets are sold out.
There will be some tickets available at the door.
Early arrival is recommended!
Research is excited to present a 12-hour party with...

Theo Parrish (Six Hour Set)
https://afropunk.com/2018/06/afropunk-interview-theo-parrish/
https://en.wikipedia.org/wiki/Theo_Parrish
https://www.discogs.com/artist/149-Theo-Parrish
On Opening Duties...

Atlee + J-Justice [City Soul / KBCS 91.3FM / Trust]
http://kbcs.fm/programs/city-soul/
🌿 Timbre Room Mornings [5:30 - 10 AM] 🌿
Bar re-opens w/ complimentary breakfast at 6 AM!

with...

Pezzner
https://soundcloud.com/pezzner

R-Pal
https://soundcloud.com/rpal

Shaw L
https://soundcloud.com/localfi

Art by Isabel von der Ahe
https://isabelvonderahe.com

………………………………………

Kremwerk
1809 Minor Ave.
Seattle, WA
http://kremwerk.com/
21+
Art by Isabel von der Ahe
https://isabelvonderahe.com

………………………………………

Research seeks to provide a safer space for attendees to thrive on the dancefloor. Those who exhibit racist, sexist, homophobic, transphobic, ableist, ageist, and/or physically/sexually/verbally aggressive behavior will be bounced for the night and potentially barred from future events. If you experience any of the above please contact a member of Kremwerk staff.

Thank you for supporting underground dance music in Seattle.
If you're down with the cause, please invite your friends to this event / spread the word ♥ See you on the dancefloor! 👠

………………………………………

Kremwerk strives to be a safe space. The following actions or display of behavior will not be tolerated: bigotry, racism, sexism, transphobia, homophobia, misogyny, ableism, as well as the disrespect of the rules of consent. Our staff is here to support you.

Kremwerk is currently not an ADA accessible space. Club entry is through a flight of 12 metal stairs, with two small steps leading into the main part of the club. We have 2 restrooms with a total of 3 stalls and 1 urinal, all gender neutral. If you would like access to single-stall restrooms, please don't hesitate to ask our door & security to allow entry upstairs into Timbre Room, which has 2 single-stall gender-neutral restrooms.

For any questions about safety & accessibility, please email info@kremwerk.com.