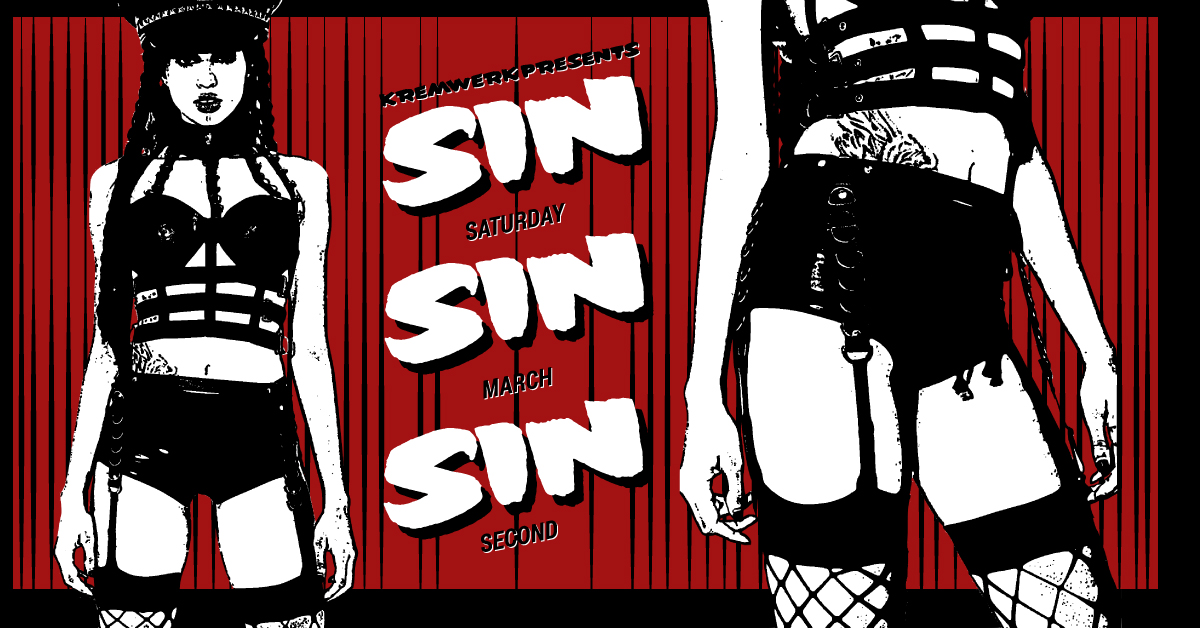 SIN: March Edition
Kremwerk is proud to bring you our fetish night, SIN : Darkness & Decadence.
After an amazing Seattle Comic-Con Edition last year, we decided to bring back this special Edition so you can wear your outfits from your favorite comic books...! Come live out your darkest passions at SIN.
A portion of the proceeds from this show will go to benefit SIN regular and friend, Steven Adams. If you are unable to make it, but would still like to donate, a gofundme page has been set up - gf.me/u/qpx8b8
=======================
Spinning the best & newest in EBM & Industrial Music. Only one of a handful of nights in the U.S. playing only NEW music, this is not your parent's Goth.
Featuring..
DJ Shane
http://www.mixcloud.com/shaneaungst
Our new Resident DJ....
DJ Jasyn [God Module] & [Hexheart]
=======================
Devilish - Photography by Jason Renek / Drink Specials / PlayPen by DeBelle Productions / 18+ Munch in Little Maria's Pizza.
=======================
Come & SIN with us…
Saturday, March 2nd
10PM-2AM
=================
21+
Kremwerk
1809 Minor Ave
Seattle, WA
=================
SIN is every 1st Saturday of the month at Kremwerk. RSVP to stay up to date with cover specials. x Dress in your Sinful best, those dressed in fetish wear get discounted entry. Are you a member of FetLife? Find our account here: Fetlife.com/SinEvents. x Membership is now CLOSED - please bring your member card Day of Show to receive discounts and offers. Membership is NOT required to attend SIN. x SIN is a safe space. Respect the rules of consent. Those who do not abide will be asked to leave and banned from the club.
=======================