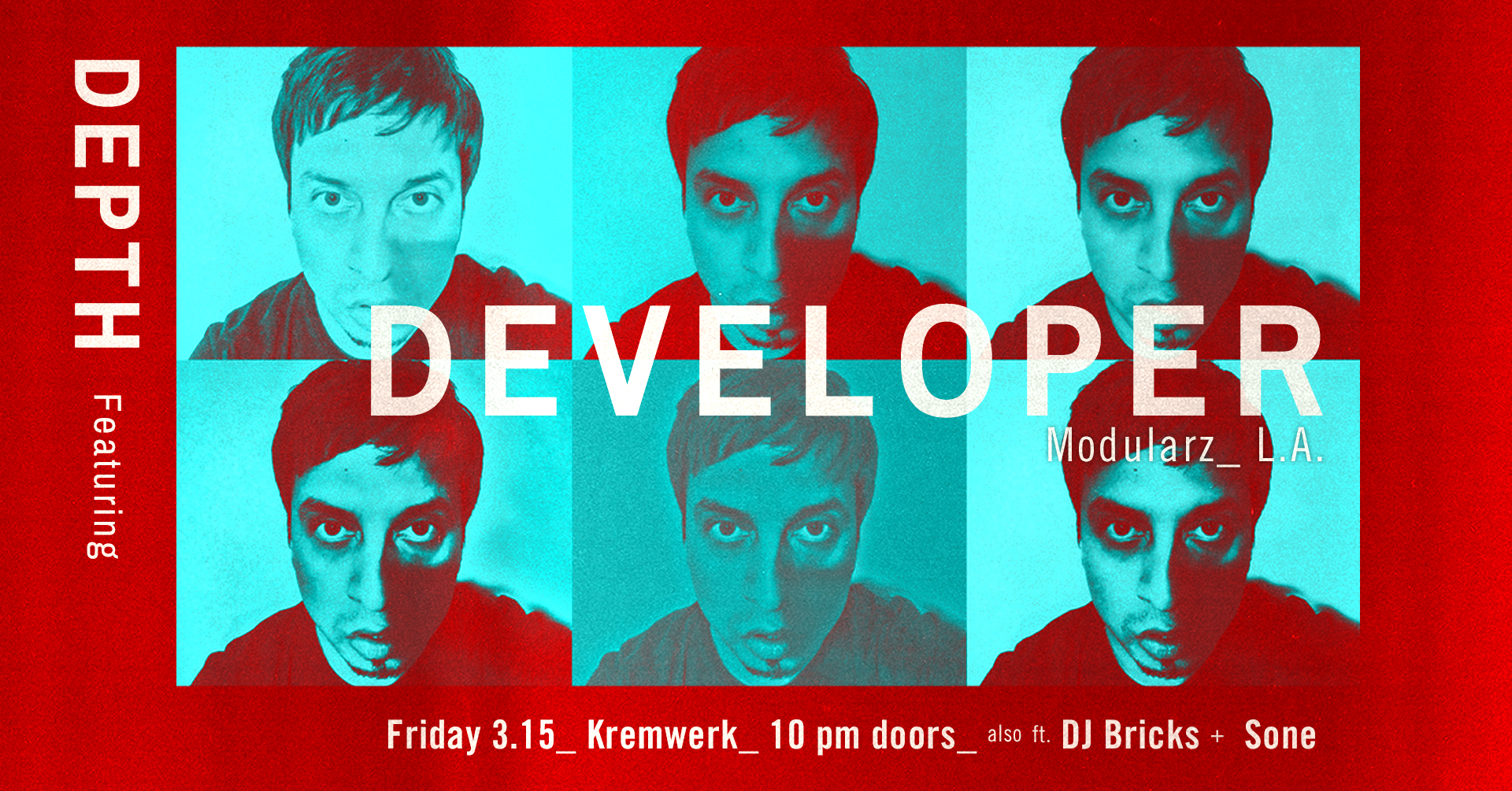 Depth ft. Developer [Modularz]
Fri, Mar 15 at 10pm - Sat, Mar 16 at 4am
DEPTH presents an evening with...
Developer [Modularz]
https://soundcloud.com/modularz
With support from...
DJ Bricks
Sone
https://soundcloud.com/brian-s
………………………………………
Kremwerk
1809 Minor Ave.
Seattle, WA
http://kremwerk.com/
21+
………………………………………
Sign up for the Kremwerk + Timbre Room Complex mailing list on our website, to stay in the loop about upcoming events, ticket giveaways and more!
http://www.kremwerk.com/
………………………………………
Developer's current approach on the advanced DJ/Performance come's naturally with the evolution of technology using computers and controllers combined with a strong long library of techno and house influenced tracks.
Developer continues to thrive as one of the most interesting techno mixmasters from the Americas as well as the birth of his label Moduarz that features productions and remixes from some of his early contemporaries in Los Angeles as well as a hand full of selected talents both established and emerging from around the world.
………………………………………
Kremwerk strives to be a safe space. The following actions or display of behavior will not be tolerated: bigotry, racism, sexism, transphobia, homophobia, misogyny, ableism, as well as the disrespect of the rules of consent. Our staff is here to support you.
Kremwerk is currently not an ADA accessible space. Club entry is through a flight of 12 metal stairs, with two small steps leading into the main part of the club. We have 2 restrooms with a total of 3 stalls and 1 urinal, all gender neutral. If you would like access to single-stall restrooms, please don't hesitate to ask our door & security to allow entry upstairs into Timbre Room, which has 2 single-stall gender-neutral restrooms.
For any questions about safety & accessibility, please email info@kremwerk.com.