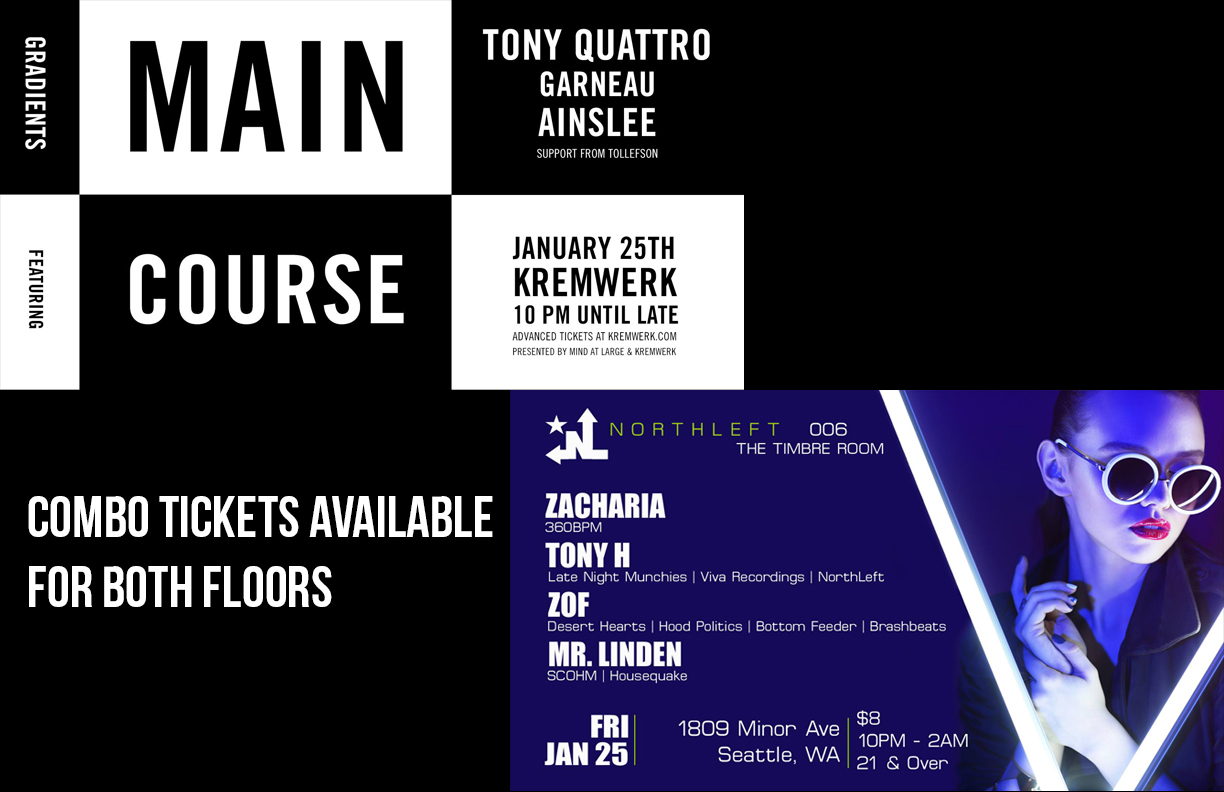 Gradients. ft. Main Course Takeover w/ Tony Quattro
Kremwerk and Gradients. presents...
Main Course Takeover w/ Tony Quattro
https://soundcloud.com/tonyquattro
Support
Garneau
https://soundcloud.com/garneaumusic
Tollefson
https://soundcloud.com/tllfsn
——————————
$10 ADV ⎮ $15 Door
Kremwerk
1809 Minor Ave.
Seattle, WA
http://kremwerk.com/
21+
………………………………………
In physics, a gradient can be defined as an increase or decrease in the magnitude of a property. In the case of our party Gradients. - that property is FUN! Gradients. is here to provide a smooth transition away from the stress of your hectic work week into the fun of the weekends where your true colors can shine bright! Thoughtfully curated by the MIND at LARGE crew.
………………………………………
Sign up for the Kremwerk + Timbre Room Complex mailing list on our website, to stay in the loop about upcoming events, ticket giveaways and more!
http://www.kremwerk.com/
………………………………………
Kremwerk strives to be a safe space. The following actions or display of behavior will not be tolerated: bigotry, racism, sexism, transphobia, homophobia, misogyny, ableism, as well as the disrespect of the rules of consent. Our staff is here to support you.
Kremwerk is currently not an ADA accessible space. Club entry is through a flight of 12 metal stairs, with two small steps leading into the main part of the club. We have 2 restrooms with a total of 3 stalls and 1 urinal, all gender neutral. If you would like access to single-stall restrooms, please don't hesitate to ask our door & security to allow entry upstairs into Timbre Room, which has 2 single-stall gender-neutral restrooms.
For any questions about safety & accessibility, please email info@kremwerk.com.