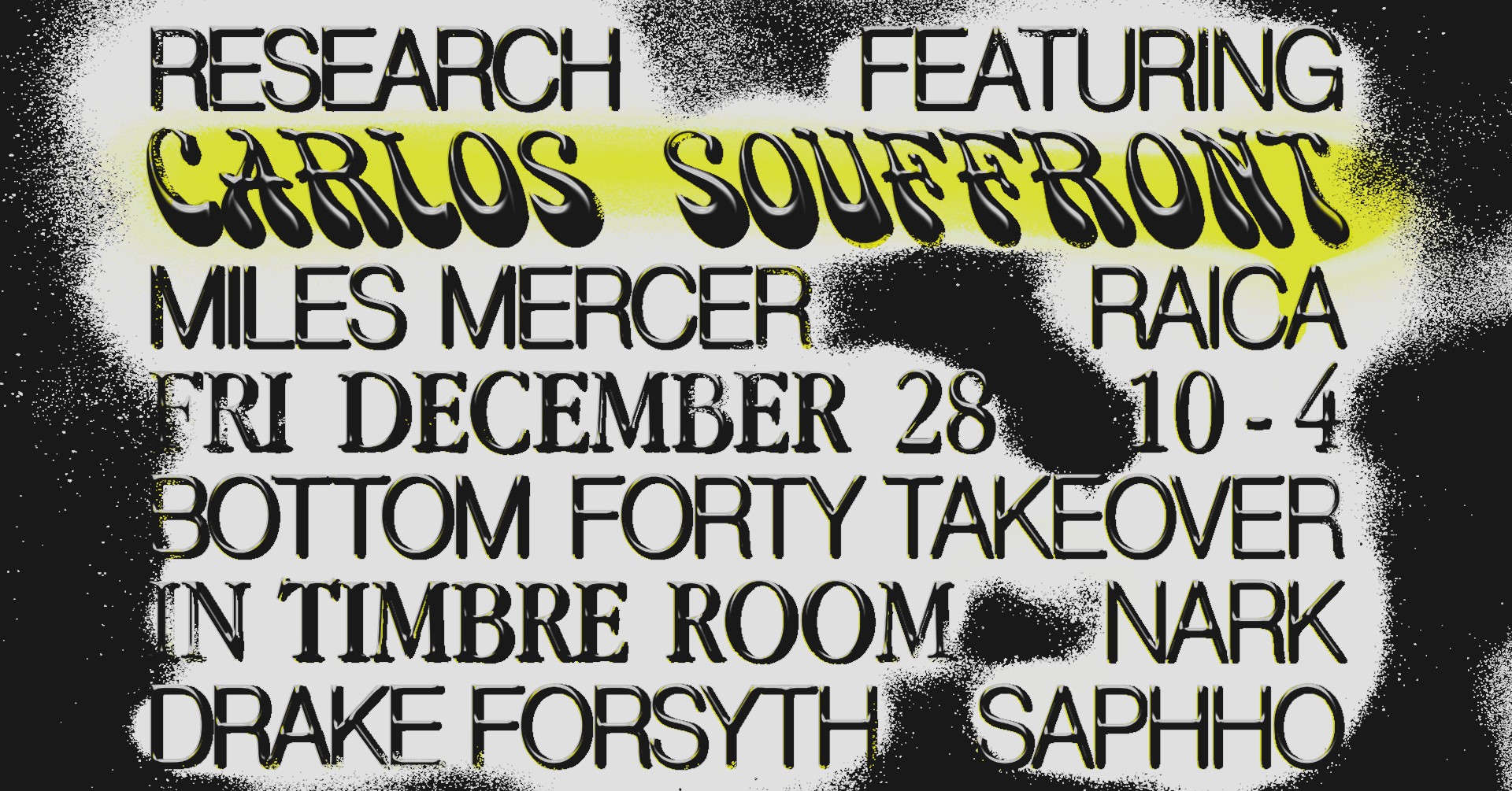 Research ft. Carlos Souffront


w/ Bottom Forty Takeover in Timbre Room
Fri, Dec 28, 2018 at 10pm
at
Kremwerk & Timbre Room Complex
Research kicks off a long holiday weekend with "A DJ's DJ from Detroit with one of the most insane acid collections in the world"...

Carlos Souffront [Interdimensional Transmissions]
https://www.youtube.com/watch?v=tDBwX6-r-Vs
http://interdimensionaltransmissions.com/artists/carlos-souffront

support from...

Miles Mercer [Grounded]
https://soundcloud.com/milesmercer

Raica [Further Records]
https://soundcloud.com/chloeharris/

Bottom Forty Takeover in Timbre Room ft...

Sappho
https://soundcloud.com/sappho-presents-chingo

Nark
https://soundcloud.com/nark

Drake Forsyth
https://soundcloud.com/dtforsyth

$8 Early Birds + Adv. Tix: [LINK HERE]
$15 before 11 PM, $20 After

Kremwerk
1809 Minor Ave.
Seattle, WA
http://kremwerk.com/
21+

………………………………………

Research seeks to provide a safer space for attendees to thrive on the dancefloor. Those who exhibit racist, sexist, homophobic, transphobic, ableist, ageist, and/or physically/sexually/verbally aggressive behavior will be bounced for the night and potentially barred from future events. If you experience any of the above please contact a member of Kremwerk staff.

Thank you for supporting underground dance music in Seattle.
If you're down with the cause, please invite your friends to this event / spread the word ♥ See you on the dancefloor! 👠

………………………………………

Sign up for the Kremwerk + Timbre Room Complex mailing list on our website, to stay in the loop about upcoming events, ticket giveaways and more!
http://www.kremwerk.com/

………………………………………

About...
CARLOS SOUFFRONT
Carlos Souffront is a music gourmet, a true DJ's DJ. His taste is rich and vast and he has the unique ability to create deeply rhythmic narratives that offer unexpected and exotic spices. He mastered his deep mixing skills with a cassette deck and a belt drive turntable in his father's den in Troy, home of contemporaries such as Mike Servito, Tadd Mullinex and Matt Dear. Equally entrenched in indie rock, post punk, experimental music, ambient, rock, house, and techno, Carlos was always a man of many worlds - with an ability to traverse through them with an unique imagination. There is a mood to his search within sound, something that is heavy, deep yet gritty. Like many Caribbean transplants that ends up in northern colder climates, he wonders where our rhythmic complexity is. For him it is effortless and endlessly surprising to the listener.

Carlos is an important component of the Interdimensional Transmissions parties, bringing a loose yet tight moody deepness and an ever unexpected edge. At the original No Way Back party, he demanded truth in advertising, pushing us to and then past the 12-hour mark. He has participated in the studio with Ectomorph, and also performed alongside some of their live performances.

It is all too rare to find someone within the electronic music spectrum that can be called an original, that you can only really explain to someone who experienced them on the dance floor, usually just by saying "that's so" and saying their name. Carlos is one of those rarities.

………………………………………

Kremwerk strives to be a safe space. The following actions or display of behavior will not be tolerated: bigotry, racism, sexism, transphobia, homophobia, misogyny, ableism, as well as the disrespect of the rules of consent. Our staff is here to support you.

Kremwerk is currently not an ADA accessible space. Club entry is through a flight of 12 metal stairs, with two small steps leading into the main part of the club. We have 2 restrooms with a total of 3 stalls and 1 urinal, all gender neutral. If you would like access to single-stall restrooms, please don't hesitate to ask our door & security to allow entry upstairs into Timbre Room, which has 2 single-stall gender-neutral restrooms.

For any questions about safety & accessibility, please email info@kremwerk.com.