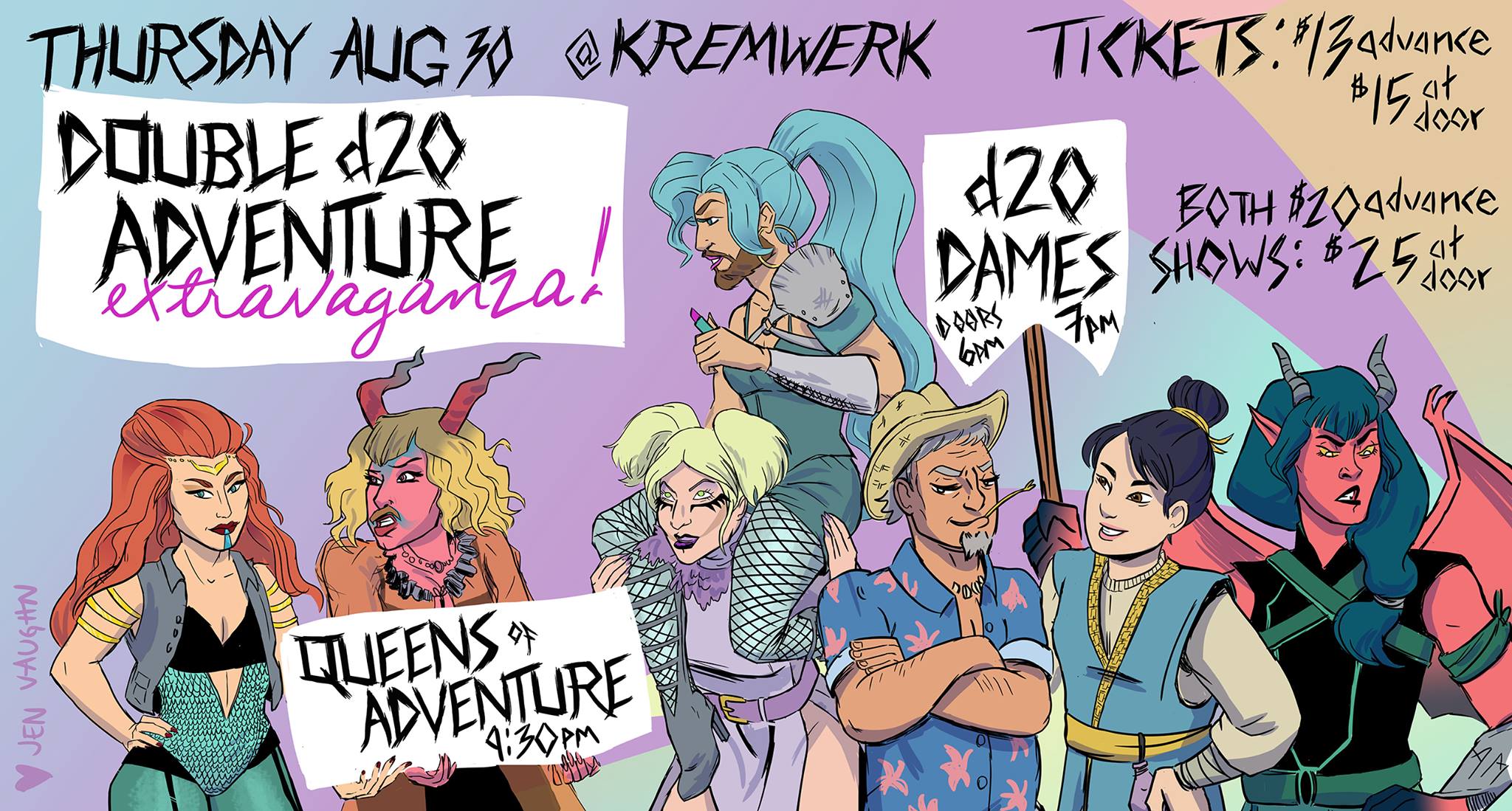 Double D20 Adventure Extravaganza
Dungeons & Dragons live! Two spectacular shows in one night — just in time to kick off PAX!
For one night only, the d20 Dames and Dungeons & Drag Queens roll the dice and improvise their way through two original adventures, played onstage before a live audience! It's a night of real D&D — challenging encounters, thrilling combat, and hilarious misadventure.
Come to one or both of these interconnected shows, with discount double-feature tickets available! We'll have a fantasy-themed photo booth on the patio between shows, so dress to impress or come in costume to get your picture taken with the casts of your favorite D&D podcasts.
If you're into role-play, join us for a night of dice rolls, death drops, and drink specials to die for!
Pre-order now — $20 for a ticket to both shows! ($25 at the door)
Single-show tickets are $13 online, $15 at the door.
Doors open at 6pm, with the d20 Dames show starting at 7.
The Dungeons & Drag Queens show starts at 9:30pm.
About the d20 Dames: d20 Dames is a tabletop storytelling podcast powered by Dungeons & Dragons. Every other week a group of five daring ladies comes together to explore a fantastic realm, befriend (or behead) monsters, and punch creeps.
About Dungeons & Drag Queens: Dungeons & Dragons & Drag Queens come together in original comedy adventures! This is the one-year anniversary of our first show, and since then we've hosted five sold-out shows full of luscious lip syncs, chilling challenges, and audacious audience interaction; and launched our podcast, Queens of Adventure.
Your Adventurers:
The d20 Dames
📰 Brittni Liyanage - Sildar - The Dad
🙏 Meris Mullaley - Rose Lao - The Monk
🏹 Jen Vaughn - Riot Bonezerker - The Ranger
🦄 Kat Kruger - The Dungeon Master
Queens of Adventure
🗡️ Harlotte O'Scara - The Rogue
👠 Butylene O'Kipple - The Alchemist
🛡 Arson Nicki - The Warlock
💄 Fraya Love - The Cleric
🎲 Matt Baume as The Dungeon Master
📀 DJ Robosex Homosex in the booth
🐶 Beau as The Dice Boi