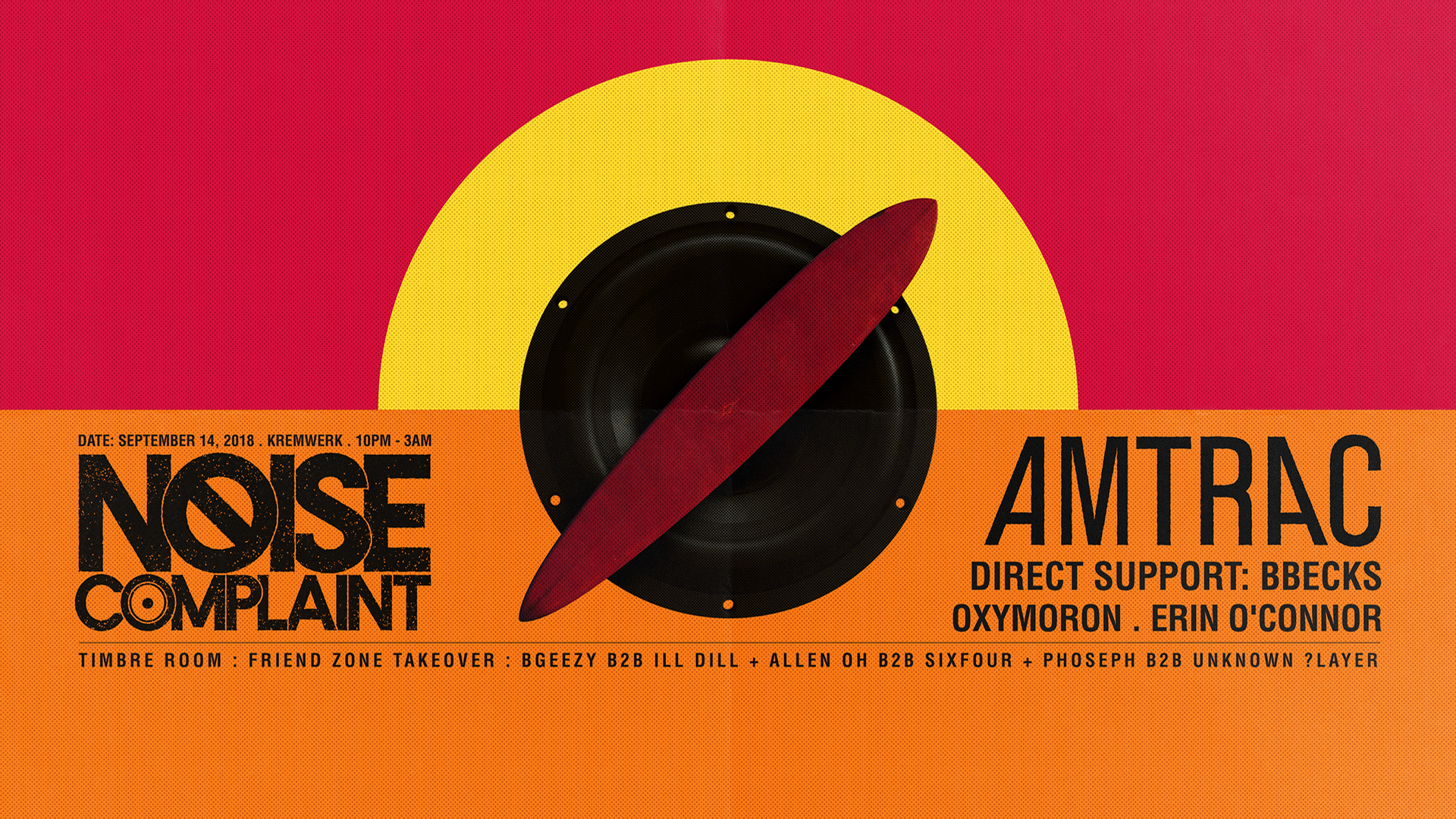 Noise Complaint ft. Amtrac
Fri, Sep 14, 2018 at 10pm
at
Kremwerk & Timbre Room Complex
Noise Complaint and the Kremwerk/Timbre Room Complex are proud to present, two rooms of thoughtfully curated music featuring:
🚄AMTRAC🚄
It's been quite the summer, and we figure what better way to cap it off with a train...a feels train that is...courtesy of none other than Amtrac! With the titles of producer, musician, DJ and vocalist to his name, versatility has become Caleb Cornett's calling card since the release of his debut LP Came Along in 2011. Raised on an eclectic palate of musical influences from Pink Floyd, The Prodigy and The Chemical Brothers since his childhood in Morehead, Kentucky, his vast musical exposure has led to an unrivaled diversity in his performances as well as across his own productions.
Never content to settle, Amtrac's musical mood and influences change with each passing season, spanning across disco, indie-dance and deep house. From the Stevie Wonder sampled "Those Days" to the house-fueled "Hold On," - which broke into the Top 10 Beatport House charts - Cornett has only continued to push his creative limits and receive praise across BBC Radio 1 titans Pete Tong, Annie Mac and Danny Howard. As impressive as his original works may be, one can't discuss the producer's body of work without mentioning the Amtrac remix, a coveted commodity in today's music business. Sigur Ros, Duke Dumont, Alex Metric, Two Door Cinema Club and more have all requested the Amtrac treatment, and each time the producer has delivered and then some.
With a resume carrying the names of noted tastemaker labels including Toolroom and Kitsuné, his most recent EPs have come through Kidnap Kid's Birds That Fly imprint and Waze & Odyssey's Street Tracks, noting another step in his sonic evolution. His ambition and curiosity keep him locked on the edge, always happy to experiment with new techniques and sounds. His music is what he feels in the moment. Simply put, his constant evolution comes from a hatred of boredom and a love for his labor.
LOCAL SUPPORT FROM:
🎹 BBecks 🎹
💃 Erin O'Connor 💃
🎷Oxymoron🎷
———————————————————————
UPSTAIRS IN THE TIMBRE ROOM
FRIEND ZONE TAKEOVER FEATURING:
🤘BGEEZY b2b ILL DILL🤘
✌️ALLEN OH b2b SIXFOUR✌
👊PHOSEPH b2b ?KNOWN PLAYER👊
——————————————————————-
🎟 VERY LIMITED $10 TIER 1 Tickets available NOW 🎟
Ticket Prices:
$10 Tier 1
$15 Online Pre-Sale (while available)
$20 Day of Show @ Door
21+
—
🔇 ABOUT NOISE COMPLAINT 🔇
Gone is the party where the music and the people at the party mattered more than making money. As Electronic Dance Music has exploded in popularity over the last several years, so have crowds and ticket prices along with it. In the beginning, events were held in underground, often intimate venues. It was about the music, and it was about each other.
Noise Complaint is taking it back to its roots, bringing the people quality, dance floor focused house and techno all while pushing that party-don't-stop vibe that everyone loves. We're bringing in huge talent - DJs and producers that are well known and respected but that we also personally vibe with. We're doing this at a small price, and in an intimate space. It's about the music for us, it's about the party and the vibe and the memories and friends you will make. Every Noise Complaint should be the best party you've been to since well, the last Noise Complaint.
We're more than just a party, we're a movement. Join us 2nd Fridays at Kremwerk and become part of the family.