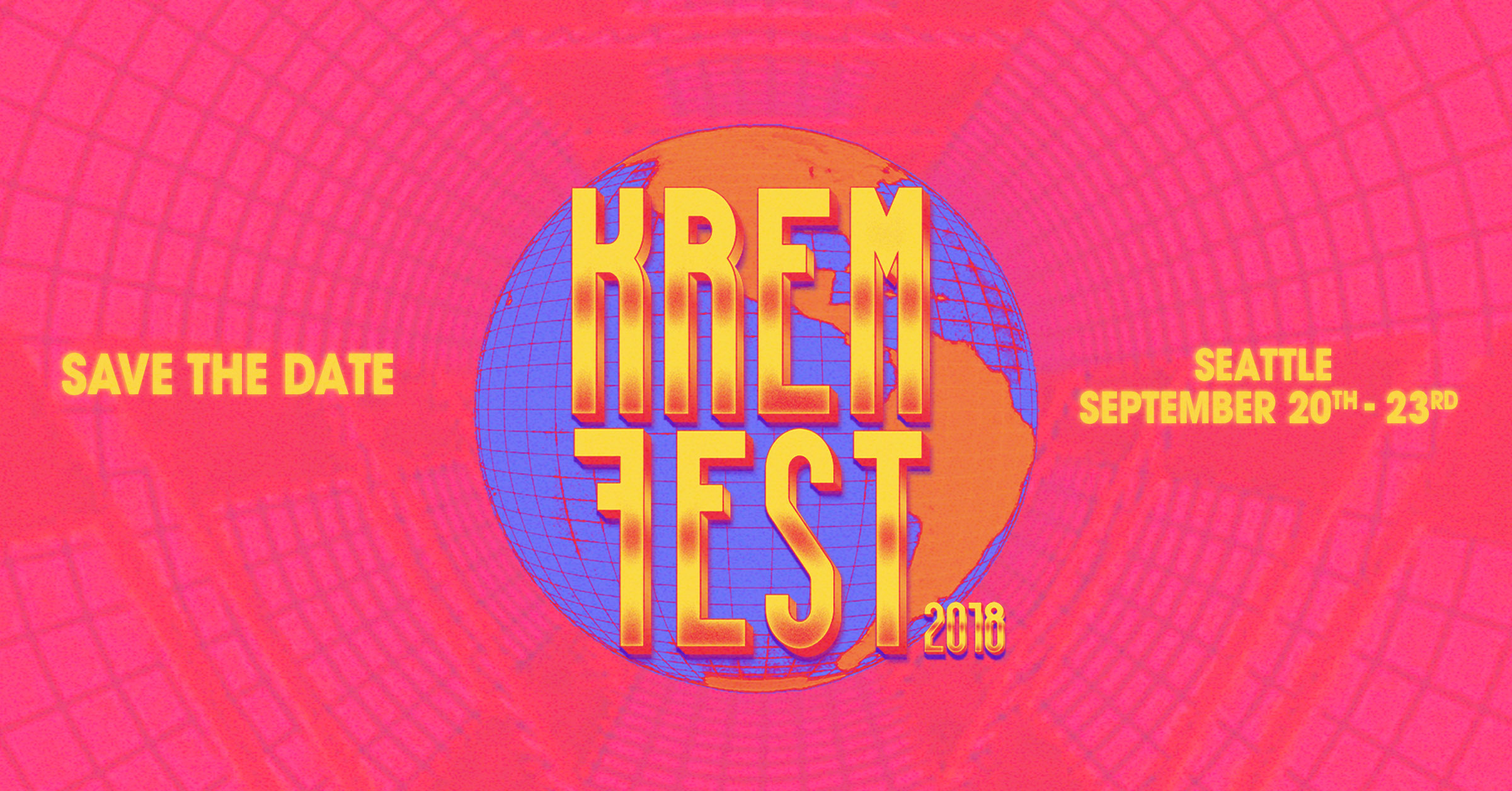 Kremfest 2018
September 20th-23rd
at
Kremwerk & Timbre Room Complex
Early Bird All Weekend Pass
Early Bird All Weekend Pass Tier 2
Presenting the second annual edition of KREMFEST, a multi-day celebration of forward-thinking electronic music & multimedia at the Kremwerk + Timbre Room Complex! Expect no-holds-barred music showcases, mind-bending virtual reality experiences, stunning art installations, and a few surprises.

⚡FULL LINEUP & SCHEDULE COMING SOON ⚡

WAVE ONE ARTIST ANNOUNCEMENTS:

Robert Hood
https://soundcloud.com/roberthood

Pleasurekraft
https://soundcloud.com/pleasurekraft

Doc Martin
https://www.residentadvisor.net/dj/docmartin

JD Samson
https://www.facebook.com/DJJDSamson/
https://soundcloud.com/jd-samson

Noncompliant
https://soundcloud.com/djshiva

Sinistarr
https://soundcloud.com/sinistarr

.... more announcements to come! ⚡

WAVE ONE SHOWCASE ANNOUNCEMENTS:
THURS • 9/20
DEPTH Seattle
A collective of artists and musicians pushing underground techno.

FRI • 9/21
Noise Complaint
Noise Complaint is taking it back to its roots, bringing the people quality, dance floor focused house and techno all while pushing that party-don't-stop vibe that everyone loves. They're more than just a party, they're a movement.

SHOOK!
A new party focused on the cutting edge of bass music, with special guests from around the world paired with Seattle's most discerning selectors.

SAT • 9/22
Research
A party with adventurous dance music.

Kiss Off
A queer women's event for dancing, socializing and collaboration.

Studio 4/4
Caters to the underground house, techno and disco lovers who appreciate international talent and an amazing vibe.

SUN • 9/23
Fraktured
Home of the Broken Beat!

Tremulant
Event production company and recording label featuring emerging electronic music, video exploration, and space-based adventures.

🌐 🌐 🌐

Are you interested in participating in Kremfest?
Please email info@kremwerk.com.

The Kremwerk + Timbre Room Complex is widely known as a vortex of creativity—we're a growing nexus of possibilities. With Kremfest, we continue to provide a distinctive platform to local, national and international talent to exhibit their creative passion and pay homage and respect to those who've paved the way.

kremfest.com

========================

Kremwerk + Timbre Room Complex
1809 Minor Ave. Seattle, WA
kremwerk.com
21+

………………………………………

Sign up for the Kremwerk + Timbre Room Complex mailing list on our website, to stay in the loop about upcoming events, ticket giveaways and more!

www.kremwerk.com

………………………………………

The Kremwerk + Timbre Room Complex strives to be a safe space. The following actions or display of behavior will not be tolerated: bigotry, racism, sexism, transphobia, homophobia, misogyny, ableism, as well as the disrespect of the rules of consent. Our staff is here to support you.

Kremwerk is currently not an ADA accessible space. Club entry is through a flight of 12 metal stairs, with two small steps leading into the main part of the club. We have 2 restrooms with a total of 3 stalls and 1 urinal, all gender neutral.

Timbre Room is ADA accessible with a ramp to the front door/bar area, and access to the back door/dance area through the patio area, and 2 accessible gender-neutral restrooms available.

For any questions about safety & accessibility, please email info@kremwerk.com.