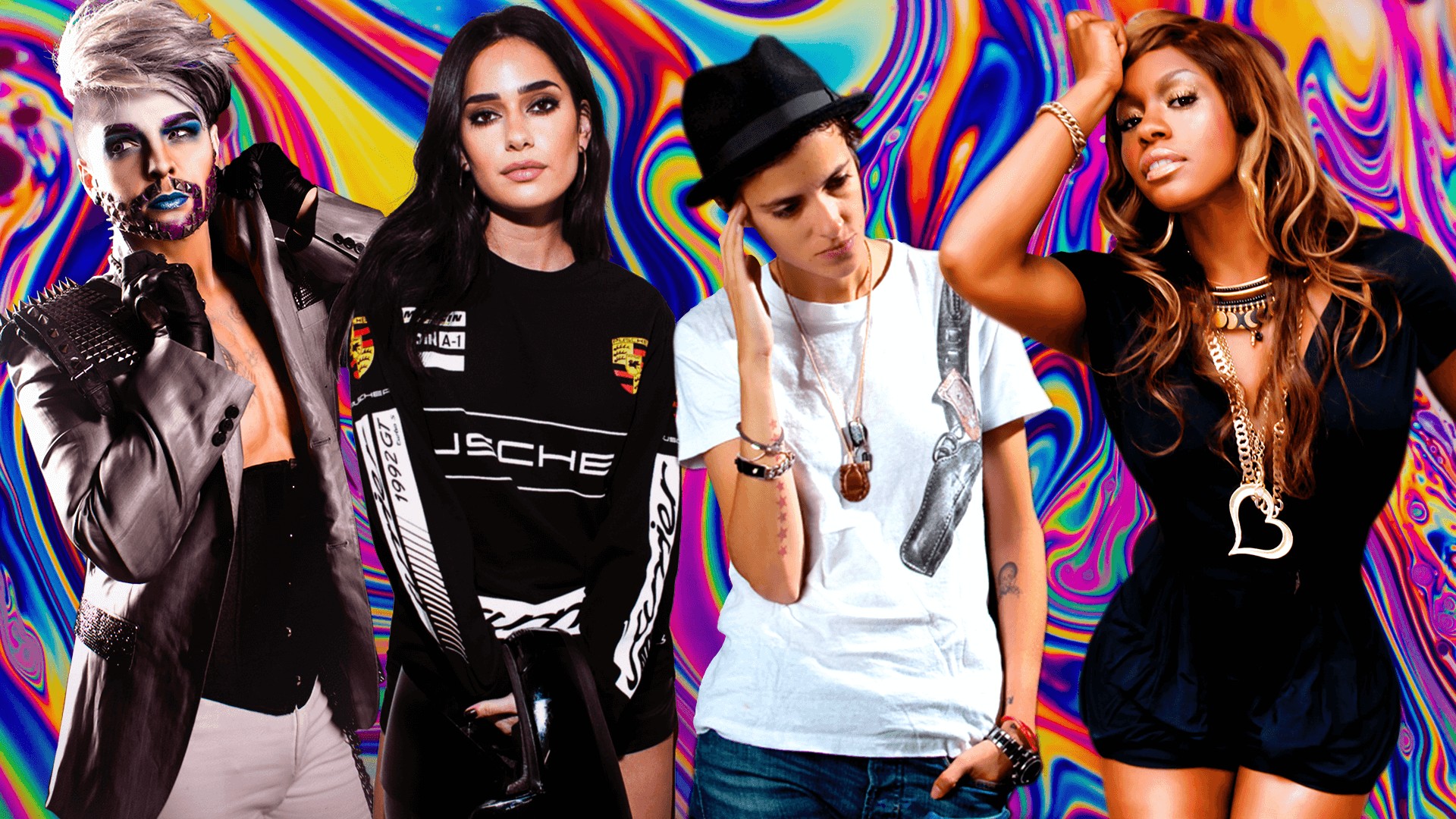 Pride! Samantha Ronson, Kittens, Ultra Naté, Landon Cider
Sat, Jun 23, 2018 at 5pm
at
Kremwerk & Timbre Room Complex
♥ Seattle Pride Saturday 2018 ♥
Kremwerk + Timbre Room Complex Party
3 stages + 4 full bars + outdoor patio + drag shows
Join us in celebrating Seattle Pride 2018! The hottest pride Saturday party in town bringing you world renowned super stars and beloved local talent!
♥ Kiss Off Presents Kremwerk Stage ♥
Featuring:
✮ SAMANTHA RONSON (UK)
http://www.samantharonson.com/
In the past few years, there is little about Samantha and her kin's pedigree that has gone undiscovered. In addition to the shared surname, the siblings are all also intensely talented: brother Mark is a Grammy nominated producer, and twin sister Charlotte is a successful fashion designer. Then there is Samantha's storied career behind the decks. In getting so caught up in the things one thinks they know about Samantha Ronson, there is a danger that one might miss one of the best parts- her lifelong love and talent of playing, making and writing music.
Having recently headlined events such as Dinah Shores, and traveled the world over as a DJ and celebrity, we are honored to host her for her Kremwerk debut on Pride Saturday!
✮ KITTENS (LA)
With her vast knowledge and relentless curiosity for music, LA based DJ, KITTENS (born Lauren Abedini) has been able to find and deliver a balance between low grinding electronic beats, heavy rap, and future beat music. Earning the support of some of the most influential artists of our time; Usher, Kid Cudi, Skrillex, Gaslampkiller, Salva, A-trak, and more, KITTENS has solidified herself as a cornerstone in the in the ever evolving DJ community.
Named a 'Rising Producer/DJ Shaping the LA Club Scene' by Mixmag and The Hundreds, Source Magazines '25 Women To Watch,' and featured in DJ Magazine's infamous TOP 100 issue as a 'fresh act on the rise'; KITTENS' aggressive style of DJing, rooted in her foundation as a hip hop aficionado and harder track selections often leave people pleasantly shocked to find she is not as soft and fluffy as her name might suggest.
KITTENS is also a member of LA collective, Athletixx, along with Hoodboi, Falcons, and Promnite who are pioneering a sound they've termed "LA Club," consisting of eclectic and heavy hitting alternative club music.
If not out DJing or working on music, you can find KITTENS hosting PWR: a celebrated series of non-profit DJ workshops for women (all proceeds donated to local women's shelters).
Local Support:
✮ TOYA B
The Kiss Off Stage will begin at 10pm following KINGS a Drag King show.
♥ Timbre Room Stage ♥
Featuring:
✮ ULTRA NATÉ (Baltimore)
http://www.ultranate.com/
"I am Ultra Naté and am based in Baltimore, Maryland as a singer, songwriter, DJ, producer and promoter.
I have released eight studio LPs [1990-2013] and travel around the globe performing and spinning live for a variety of audiences.
I've been writing my own songs since the beginning of my career. This was pivotal in establishing me as an artist with a distinct style all my own. I was one of the first artists in house/dance music signed to a major record deal with Warner Brothers in the UK in 1989 and I have more than 25 years of experience making groundbreaking music having collaborated with a wide array of artists such as: The Basement Boys, Nellee Hooper, D-Inflience, Mood II Swing, Nona Hendryx, Lenny Kravitz, N'Dea Davenport, DJ Class, NERVO, Tony Moran, StoneBridge, Todd Terry, David Morales, Michele Williams (of Destiny's Child), Boy George, Morgan Page, Quentin Harris and others!
My sound embraces a variety of genres including house, soul, disco, electro pop, R&B/hiphop and rock and I am honored to be considered an icon of the Dance and LGBT communities worldwide."
Ultra Nate' is an absolute legend from major tracks such as "Free" to "If You Could Read My Mind", be prepared to have your mind, body and soul, ROCKED.
Local Support:
✮ HITGIRLS!
✮ DJ SLING DION
Ultra Naté booked in association with Kendall's DJ & Event and Seattle PrideFest. Big shoutout to our partners!
Timbre Room show begins at 10pm following Arthaus.
♥ Drag Shows ♥
7pm Doors
8pm Show
+ Kings a Drag King Show +
Featuring:
✮ LANDON CIDER
https://www.instagram.com/landoncider/
"One day, your life will flash across your eyes. Make it something worth watching!" - Unknown
Kristine, a Los Angeles Native, created her Drag King persona "Landon Cider" in 2009, and instantly fell in Love with the unusual blend of Art/ Acting/ Makeup & Costuming.
Landon has had the honor of performing across the US, Canada, and most recently toured Australia with some of the top Drag Artists in the World. He's appeared on VH1, OvationTV, CryptTV, Buzzfeed, World Of Wonder, various news & entertainment media outlets and music videos including Wendy Ho's "Fuck Me", and was featured as Peter Pan in Lady Gaga's Official Lyric Video for her single "Applause"(2013).
Always a storyteller, but its the diversity he brings to those stories where he prides himself the most. From comedy, drama, horror, cosplay to celebrity illusions, Landon has been credited for raising the bar for Drag Kings entering the business:

"Landon has taken SoCal and the Nation by storm….he sets his standard to be as entertaining as our Best Queens. This is how the Kings keep up with the Queens" – WeHoConfidential.com
We are absolutely thrilled and honor to welcome Landon Cider to Kings for their Seattle Debut!!!!
Local Support:
Kings Cast + Guests
Stay tuned for more details regarding the Kings show taking place in Kremwerk!
+ Arthaus: All Stars Edition +
Stay tuned for more details regarding Arthaus All Stars taking place in Timbre Room!
♥ Patio Party ♥
Hosted by Irene Dubois
Featuring:
✮ MMMelt
✮ Queermo
✮ Lady Jane DJ
✮ Michete (LIVE)
☉ Patio opens at 5pm and goes late! Come down early for Happy Hour drink specials from 5pm - 8pm! ☉
+++ Ticketing Information +++
Buy an + All Access Ticket + for access to all stages and drag shows! Arrive any time!
Ticket Pricing for All Access:
-$20 Early Bird
-$25 Limited Advance
-$30 Presale Tier 1
We encourage pre-sale ticket purchase as prices will be higher day of show.
VIP Pricing:
$200 VIP Table (Entry for 6 to all events & includes a table for the whole night) Reserve your Table in either Kremwerk (KW) or Timbre Room (TR) (your choice) and then get full access to all events. Party with your friends for Pride!
KW booth will give you the best view of Samantha Ronson, KITTENS, Landon Cider, Kremwerk Stage and the King Show.
TR Booth gives you the best view of Arthaus, Ultra Naté, Timbre Room stage.
+ Drag Show Ticket + (includes patio and venue entry until 10pm - arrive early!)
KINGS a Drag King Show (held in Kremwerk)
-$10 GA Presale
-$15 Reserved Seating Presale
Arthaus All Stars Edition (held in Timbre Room)
-$10 GA Presale
-$15 Reserved Seating Presale
You can also purchase a ⭐⭐ Weekend Pass ⭐⭐ for the whole weekend that gets you into all of our shows from Thursday to Sunday for only ⭐⭐⭐ $75! ⭐⭐⭐ You will be a wirstband that'll act as an all access pass for Kremwerk / Timbre Room Pride 2017! Line Skipping privileges, free cocktail hour & other perks included!
For a complete list of our Pride Week events visit: http://www.kremwerk.com/pride
=====
PHOTOS BY Kingmon Creative and Keith Johnson !
=====
=====
Kremwerk & Timbre Room Complex
1809 Minor Ave
Seattle, WA
21+
=====
=====
Please contact info@kremwerk.com for accesibility inquiries. We have multiple ADA options. Kremwerk + Timbre Room is a hate free zone so leave your sexism, albeism, transphobia, racism, or any other negative vibration elsewhere.
=====
Please note we will be using Patron Scan at this event. This is for everyone's safety and so that we can easily keep track of our ticket sales. You can read about their privacy policy here: https://www.patronscan.com/privacy-us/