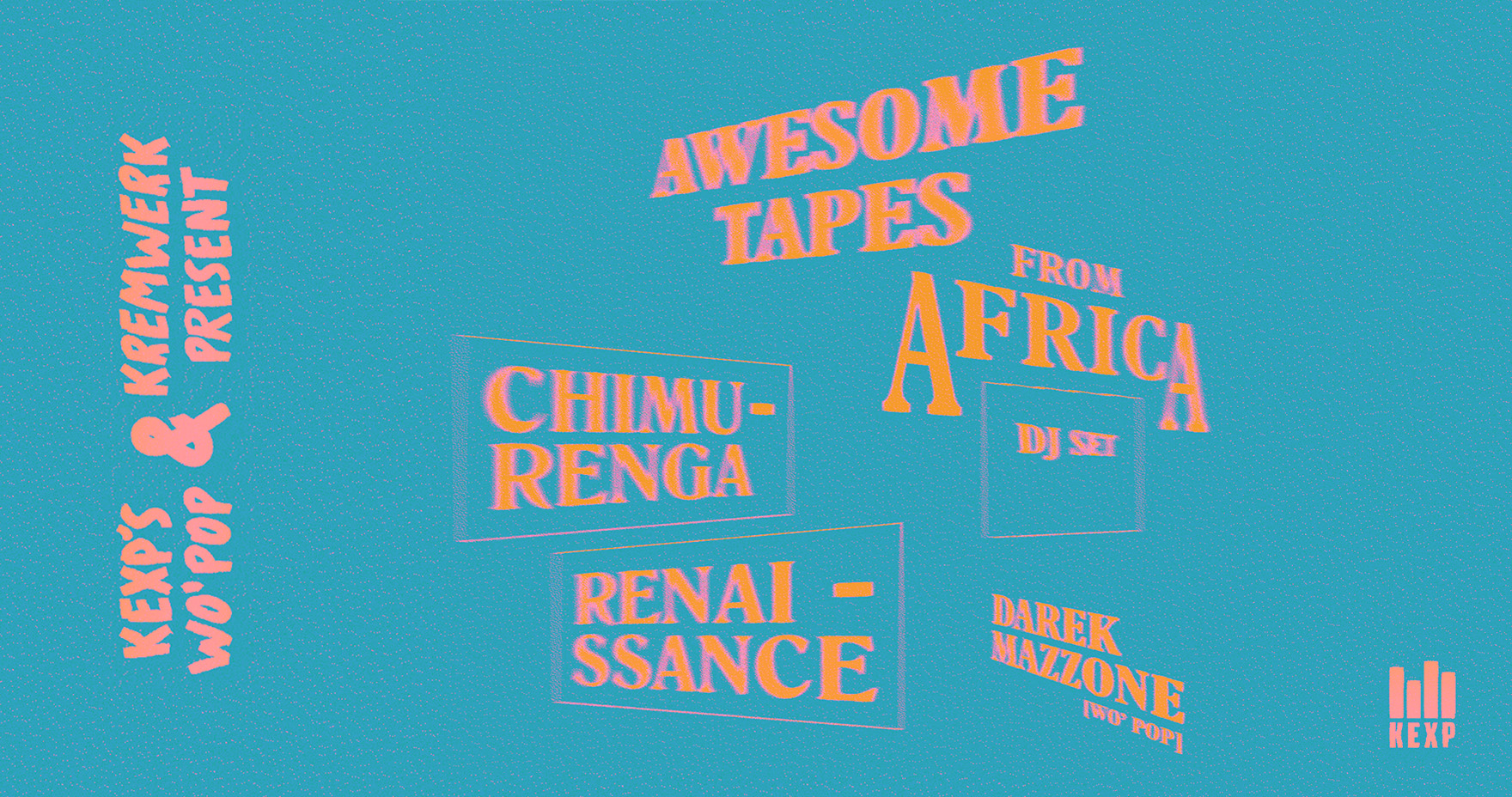 Awesome Tapes from Africa x Chimurenga Renaissance
Wo'Pop on KEXP & Kremwerk Present….
AWESOME TAPES FROM AFRICA (dj set)
Awesome Tapes From Africa began as a blog in 2006 and has grown into a label that expands musicians careers and builds bridges.
https://www.awesometapes.com/
https://awesometapesfromafrica.bandcamp.com/
CHIMURENGA RENAISSANCE
Tendai "Baba" Maraire, the architect of Chimurenga Renaissance, hails from world-renowned Zimbabwean music lineage, as his father was Abraham Dumisani Maraire. Abraham came to America where he helped initiate a flourishing Zimbabwean music scene in the Pacific Northwest.
Hussein Kalonji is a first generation Congolese American born in Washington DC. His father was Raymond "Braynck" Kalonji, a world-renowned Congolese guitar legend credited with being the pioneer of the Congolese Rumba Soukouss sound.
Baba Maraire and Hussein found it inevitable that they would eventually start playing music together. After seeing each other perform at various shows, they began to blend their two areas of expertise, hip-hop and African music, and they continued to record and develop the sound that would later become "Chimurenga Renaissance".
https://blrchimurenga.bandcamp.com/
https://www.instagram.com/chimurenga_renaissance/
Opening DJ set by…
DAREK MAZZONE [Wo'Pop on KEXP]
https://www.facebook.com/wopopkexp/
Kremwerk
1809 Minor Ave.
Seattle, WA
http://kremwerk.com/
21+
Sign up for the Kremwerk-Timbre Room Complex mailing list on our website, to stay in the loop about upcoming events, ticket giveaways and more!
http://www.kremwerk.com/
………………………………………
Kremwerk strives to be a safe space. The following actions or display of behavior will not be tolerated: bigotry, racism, sexism, transphobia, homophobia, misogyny, ableism, as well as the disrespect of the rules of consent. Our staff is here to support you.
Kremwerk is currently not an ADA accessible space. Club entry is through a flight of 12 metal stairs, with two small steps leading into the main part of the club. We have 2 restrooms with a total of 3 stalls and 1 urinal, all gender neutral. If you would like access to single stall restrooms, please don't hesitate to ask our door & security to allow entry upstairs into Timbre Room, which has 2 single-stall gender-neutral restrooms.
For any questions about safety & accessibility, please email info@kremwerk.com.