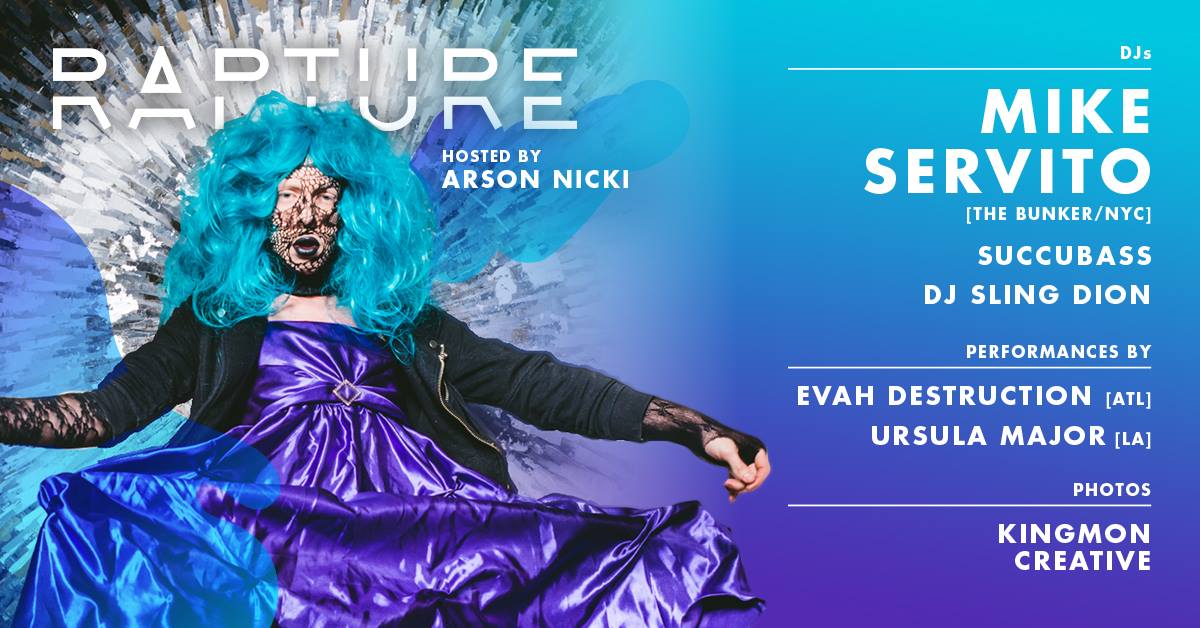 Rapture ft. Mike Servito
Fri, Jun 23, 2017 at 10pm
Kremwerk & Arson Nicki are proud to present the PRIDE edition of RAPTURE.
Rapture is a queer evening for avant garde experimentation, boundary-bursting drag performance, and overall dark techno dance vibes. There will be photos and a curated runway for attendees, so get. your. look
Hosted By:
Arson Nicki
Performances by:
Evah Destruction [ATL]
Ursula Androgyny [LA]
Music by:
MIKE SERVITO [The Bunker/NYC]
"Mike Servito is from a very special yet temporary and partially lost fertile crescent of techno / house / party DJing. It was a time when raves were still a fresh idea, almost felt like a revolution, and DJs like Claude Young, D Wynn, Derrick Carter and Mike Huckaby were informing an upcoming generation.
Detroit never forgot about Mike Servito, from debuting in 1995 at Dat's Poorboy parties, to being a resident at blackbx and Ghostly's Untitled (along with Derek Plaslaiko, Tadd Mullinix, Matthew Dear, and Ryan Elliott), contributing to the bizarrely popular, wild and free Dorkwave, and progressing that concept into Sass (the hippest queer party in Detroit at the time), to blowing minds at Interdimensional Transmissions' No Way Back parties, Servito has made his impression. Moving to Brooklyn, Detroit's loss has been their gain, as he has found a proper home with a new residency at the Bunker, and worldwide representation from Beyond Booking."
Succubass
DJ Sling Dion
Photos by:
Kingmon Creative
Advanced Tickets:
$10 Limited Early Bird Tix
$15 Advanced
$22 Critter Barn + Rapture Combo
$20 Day of Show
Friday, June 23rd.
Doors 10PM, after Cucci's Critter Barn at Kremwerk
=========
Kremwerk
1809 Minor Ave
Seattle, WA
21+
=========
Kremwerk strives to be a safe space. The following actions or display of behavior will not be tolerated: bigotry, racism, sexism, transphobia, homophobia, misogyny, ableism, as well as the disrespect of the rules of consent. Our staff is here to support you.
Kremwerk is currently not an ADA accessible space. Club entry is through a flight of 12 metal stairs, with two small steps leading into the main part of the club. We have 2 restrooms with a total of 3 stalls and 1 urinal. All Gender Neutral. If you would like access to single stall restrooms, please don't hesitate to ask our door & security to allow entry upstairs into Timbre Room, which has 2 single stall GN restrooms.
For any questions about safety & accessibility, please email jm@kremwerk.com.