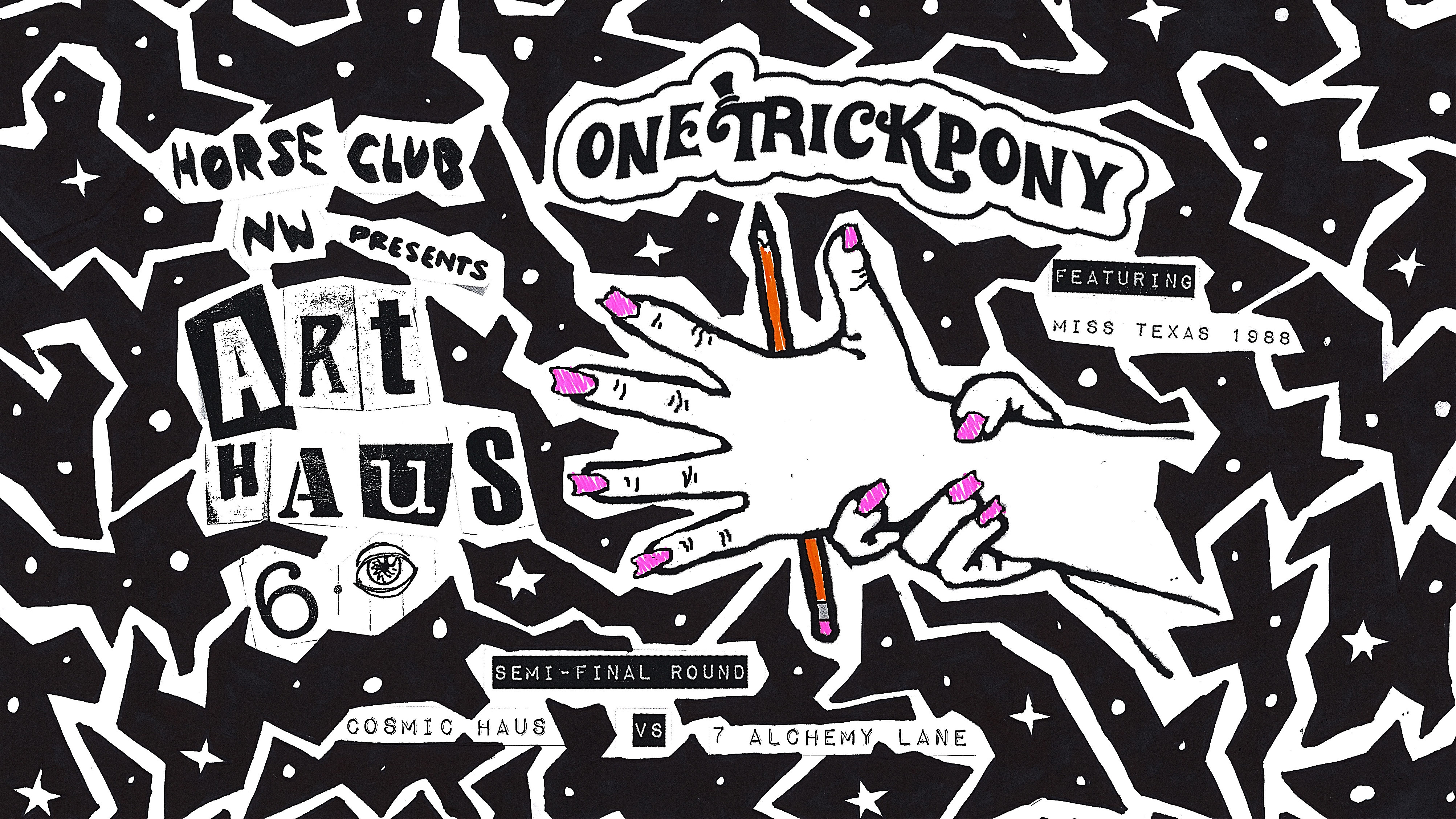 ArtHaus 6.0: One-Trick Pony
◄ ◊ ► ◄ ◊ ► ◄ ◊ ► ◄ ◊ ► ◄ ◊ ►
HORSE CLUB NW
presents
ArtHaus 6.0: One-Trick Pony
with special guest
MISS TEXAS 1988
◄ ◊ ► ◄ ◊ ► ◄ ◊ ► ◄ ◊ ► ◄ ◊ ►
Arthaus: Drag Haus Battle Royale is back for season 6-6-sickening! Hosted by 5.0 winners Horse Club NW, ArtHaus pits eight teams of drag freaks, geeks, and chic-s in a year-long competition where your vote determines whose haus reigns supreme!
SEMI-FINAL ROUND
[[[♠] [[[♣] [[[♦] [[[♥]~[♥]]] [♦]]] [♣]]] [♠]]]
COSMIC HAUS vs 7 ALCHEMY LANE
in
ArtHaus 6.0:
ONE-TRICK PONY
[[[♠] [[[♣] [[[♦] [[[♥]~[♥]]] [♦]]] [♣]]] [♠]]]
Six hauses have made it to the semi-finals, but we still need to saw that number in half before the June finale. Now it's time to prove who has the true prestige, and who's just a bunch of smoke and mirrors. After tonight, one haus will vanish before your very eyes forever!
COSMIC HAUS is
Arrietty Fatale & Vel Veeta
7 ALCHEMY LANE is
Mercury Divine
Cesare
Lazarus Rise
& Sid Seedy
Performances by
HORSE CLUB NW
Beau Degas
& Bitch Hazel
Special Guest:
Miss Texas 1988
$9/advance, $13/at the door
Doors @ 7pm / Show @ 8pm
—————————————-
Kremwerk
1809 Minor Ave.
Seattle, WA
kremwerk.com
21+
—————————————-
Sign up for the Kremwerk + Timbre Room Complex mailing list on our website, to stay in the loop about upcoming events, ticket giveaways and more!
www.kremwerk.com
………………………………………
Kremwerk strives to be a safe space. The following actions or display of behavior will not be tolerated: bigotry, racism, sexism, transphobia, homophobia, misogyny, ableism, as well as the disrespect of the rules of consent. Our staff is here to support you.
Kremwerk is currently not an ADA accessible space. Club entry is through a flight of 12 metal stairs, with two small steps leading into the main part of the club. We have 2 restrooms with a total of 3 stalls and 1 urinal, all gender neutral. If you would like access to single-stall restrooms, please don't hesitate to ask our door & security to allow entry upstairs into Timbre Room, which has 2 single-stall gender-neutral restrooms.
For any questions about safety & accessibility, please email info@kremwerk.com.