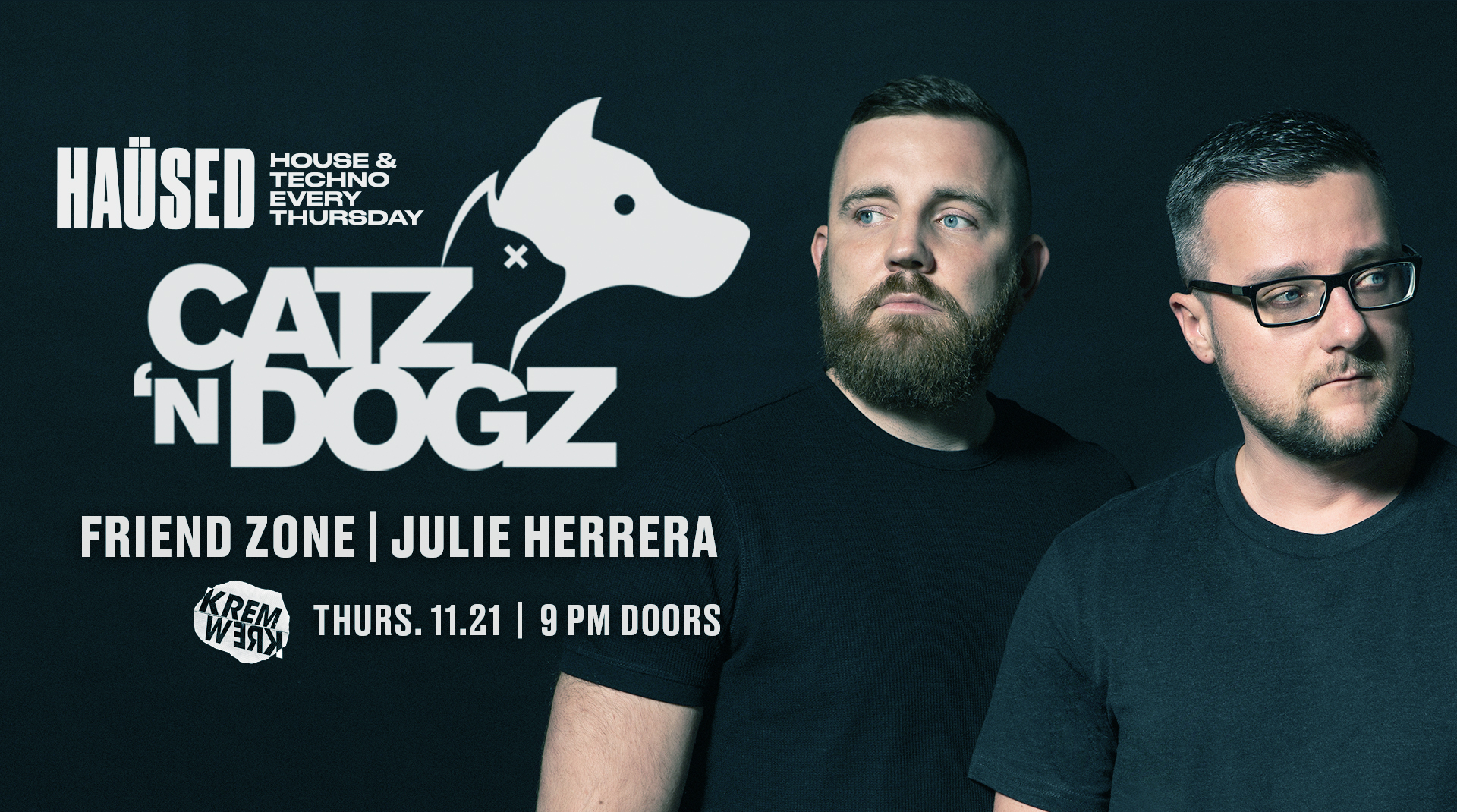 Haüsed: Catz 'n Dogz
Haüsed, your new weekly destination for house & techno EVERY Thursday at Kremwerk ️🎉!
This week we're excited to host...
Catz 'n Dogz
https://www.facebook.com/catzndogz.official
https://soundcloud.com/catzndogz
with...
Friend Zone
https://www.facebook.com/pg/FriendZone206
Julie Herrera
https://soundcloud.com/discodancin
Happy Hour Specials until 10 PM...
🍺$8 Beer-Shot Combo
🍹Discounted Wells
Kremwerk
1809 Minor Ave.
Seattle, WA
21+
………………………………………
About…
HAÜSED
House & techno EVERY Thursday at Kremwerk!
https://www.facebook.com/hausedatkremwerk/
CATZ 'N DOGZ
It's a plain fact – close friends Grzegorz and Wojciech have had a stellar and prolific career as the house outfit Catz 'n Dogz. The duo worked their way from humble beginnings to international acclaim, boasting performances at the hottest venues in Europe and abroad, their own record label, chart-topping singles and LPs. Their discography includes the 2018 EP "The Feelings Factory," Catz 'n Dogz's thrilling return to Dirtybird Records. Spring 2019 saw the much anticipated release of their fourth studio album, "Friendship." This album celebrates the friendship that has made Greg and Voitek's collaboration so powerful, and features exciting collaborators like Kiddy Smile and Jono McCleery. In the past fifteen years, the Polish producers have grown exponentially as collaborators, captivating dance DJs, and supporters of contemporary electronic musicians. Catz 'n Dogz have made a lasting impression on the electronic music community. Taking a firm lead in the Eastern European electronic music revolution, the pair have previously graced the cover of both Mixmag and DJ Mag Spain. They have held spots on such elite charts as the RA Top 100 and DJ Mag's Top 10 Albums of 2015 for their LP "Basic Colour Theory." Other accolades include a nomination for Best Track at WMC Awards 2013 with "They Frontin' feat Monty Luke" and the title of "Producers of the Year" from Muno.pl. Clearly, Catz 'n Dogz continues to dazzle the dancers on the floor and the electronic music community at large. The duo hasn't stopped there. In addition to making music, they continue to spread the love with their label, Pets Recordings, its sub-label, Step Recordings, label nights, and Wooded, a micro- festival. The Pets Recording catalog exhibits a wide range of electronic musicians, diverse in sound but alike in their ability to ramp up the dance floor. Catz 'n Dogz's Step label takes a back-to- the-basics approach as a vinyl-only label. Here, they celebrate electronic music's root functions and hardware tradition, embracing a grittier sound with some rough edges. Together, Pets and Step combined represent over 50 artists, including heavy hitters like KiNK and Eats Everything.
………………………………………
Sign up for the Kremwerk + Timbre Room Complex mailing list on our website, to stay in the loop about upcoming events, ticket giveaways and more!
………………………………………
Kremwerk strives to be a safe space. The following actions or display of behavior will not be tolerated: bigotry, racism, sexism, transphobia, homophobia, misogyny, ableism, as well as the disrespect of the rules of consent. Our staff is here to support you.
Kremwerk is currently not an ADA accessible space. Club entry is through a flight of 12 metal stairs, with two small steps leading into the main part of the club. We have 2 restrooms with a total of 3 stalls and 1 urinal, all gender neutral. If you would like access to single-stall restrooms, please don't hesitate to ask our door & security to allow entry upstairs into Timbre Room, which has 2 single-stall gender-neutral restrooms.
For any questions about safety & accessibility, please email info@kremwerk.com.