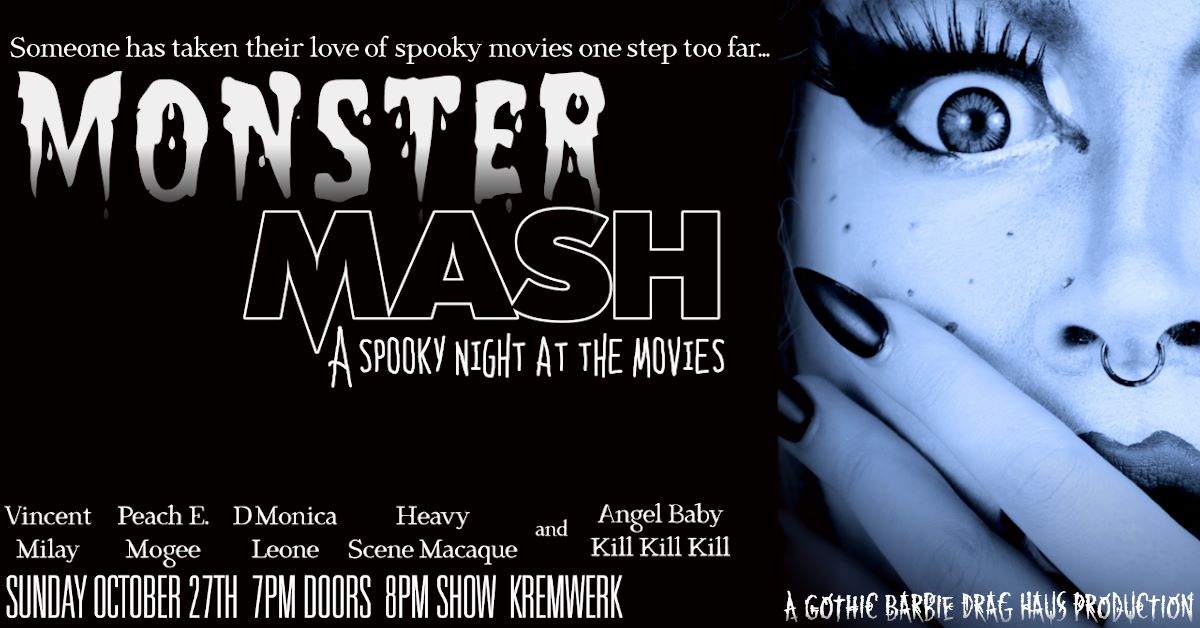 Monster Mash: A Spooky Night at the Movies
Final Girls, Boys, and Enbies: Gothic Barbie Drag Haus wants to know - do you like scary movies?

On October 27th at Kremwerk, we are celebrating our favorite time of year by honoring some of our favorite horror films and spooky flix. Join us in a night of drinks, drag, photo booths, and ghosts-a-plenty!

🖤 Featuring Haus Members: 🖤
Peach E Mogee 🔮
D'Monica Leone 🧛🏼‍♀️

🖤 With Special Guests: 🖤
Heavy Scene Macaque 🤡
Angel Baby Kill Kill Kill 👽

🖤 Introducing: 🖤
Teeny Lotts👻

🖤 And Your (g)Host with the Most: 🖤
Vincent Milay 💀

Stage Kitten: Penny Banks ⎮ Photobooth Artist: Rocket Powerpuff
Photographers: Kay Lily Photography & THM Photos

So stay awake, reschedule that trip to Camp Crystal Lake, and keep away from sewer drains as we bring you
Monster Mash: A Spooky Time at the Movies!

=====
Kremwerk
Sunday, 10/27/2019
Door: 7PM / Show: 8PM
=====
Kremwerk
1809 Minor Ave
Seattle, WA
21+
=========
Kremwerk strives to be a safe space. The following actions or display of behavior will not be tolerated: bigotry, racism, sexism, transphobia, homophobia, misogyny, ableism, as well as the disrespect of the rules of consent. Our staff is here to support you.

Kremwerk is currently not an ADA accessible space. Club entry is through a flight of 12 metal stairs, with two small steps leading into the main part of the club. We have 2 restrooms with a total of 3 stalls and 1 urinal, all gender neutral. If you would like access to single-stall restrooms, please don't hesitate to ask our door & security to allow entry upstairs into Timbre Room, which has 2 single-stall gender-neutral restrooms.

For any questions about safety & accessibility, please email info@kremwerk.com.