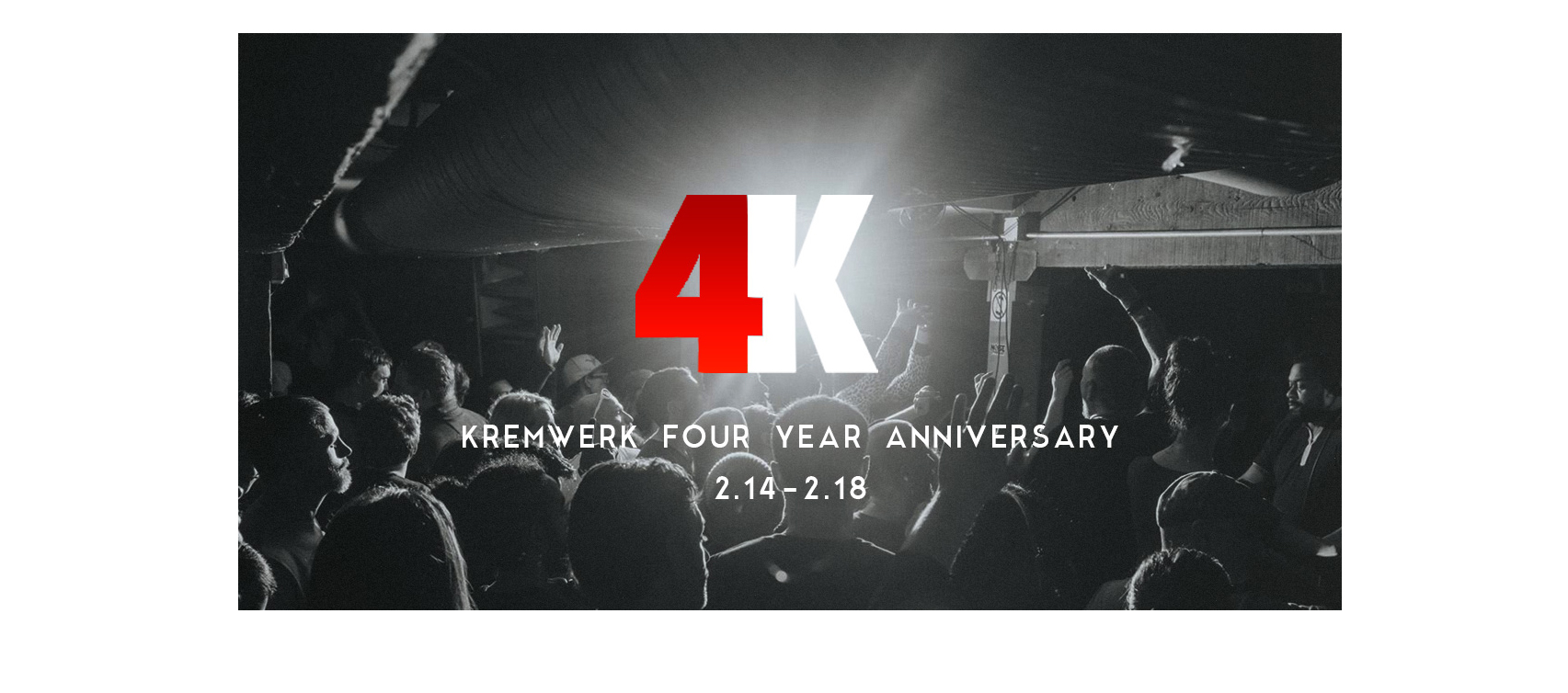 Kremwerk 4-Year Anniversary Week Pass
Wed, Feb 14, 2018 at 9pm
at
Kremwerk & Timbre Room Complex
Help Kremwerk celebrate four years of underground music and subversive scenes during our anniversary week.

Anniversary Week Fast Pass: http://bit.ly/4KWeekPass
Buy tickets for the whole week and save big time! Your VIP wristband will guarantee priority entry to every show.

4️⃣ 4️⃣ 4️⃣ 4️⃣

▲ WED. 2/15 ▲
9PM-2AM: Kremwerk 4Year & Night Gems Present OPAL ft Little Boots & More in Kremwerk
TIX: http://bit.ly/OpalLittleBoots

7PM-10PM: The Real Housewives of Seattle: A Drag Show in Timbre Room
TIX: http://bit.ly/RealHousewivesTR

▲ THURS. 2/15 ▲
DJ Taye [Teklife, Hyperdub] & DJ Manny [Teklife] | Kremwerk4Year in Kremwerk.
TIX: http://bit.ly/DJTayeKW

Limits.01 in Timbre Room

▲ FRI. 2/16 ▲
7PM-10PM: Cookie's Baked Goods w/ Stacy Layne Matthews! in Kremwerk
TIX: http://bit.ly/BakedGoods1Yr

9PM-3AM: Kremwerk 4Year / Complex: J.Phlip, Octo Octa, & Shanti Celeste in Kremwerk & Timbre Room
TIX: http://bit.ly/4KJPhlip

▲ SAT. 2/17 ▲
10PM-3AM: Kremwerk 4Year & Mothership Present Derrick Carter Open-to-Close in Kremwerk
TIX: http://bit.ly/4KDerrickCarter

▲ SUN. 2/18 ▲
Fraktured Presents Freestylers (Kremwerk 4 Year Anniversary)

4️⃣ 4️⃣ 4️⃣ 4️⃣

Kremwerk strives to be a safe space. The following actions or display of behavior will not be tolerated: bigotry, racism, sexism, transphobia, homophobia, misogyny, ableism, as well as the disrespect of the rules of consent. Our staff is here to support you.

Kremwerk is currently not an ADA accessible space, although Timbre Room is. Kremwerk entry is through a flight of 12 metal stairs, with two small steps leading into the main part of the club. It has 2 restrooms with a total of 3 stalls and 1 urinal, all gender neutral. Timbre Room has two single-stall gender-neutral restrooms.

For any questions about safety & accessibility, please email info@kremwerk.com.