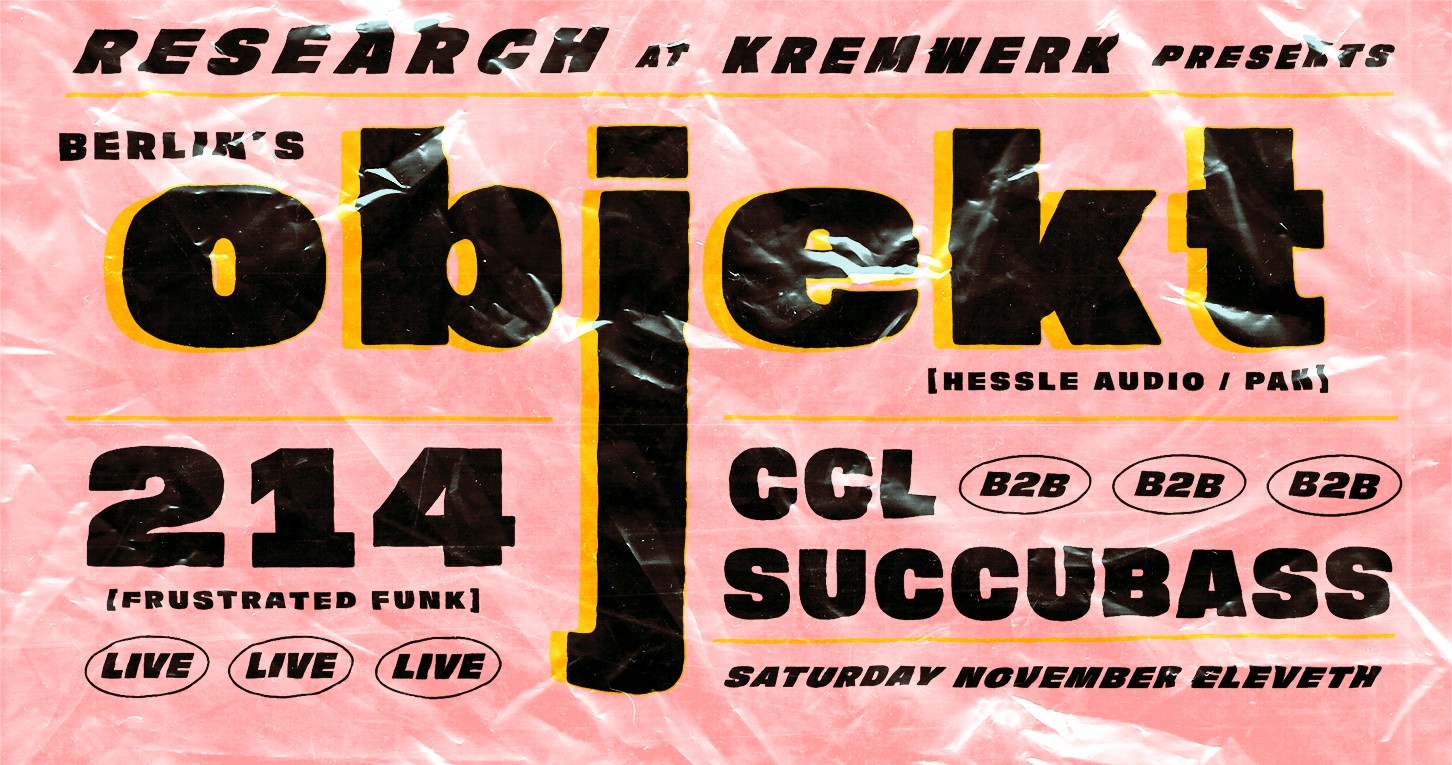 Research ft. Objekt & 214 [live]
Sat, Nov 11, 2017 at 10pm
Research Presents....
Objekt [Hessle Audio, PAN / Berlin]
https://soundcloud.com/keinobjekt
https://www.residentadvisor.net/features/2786
214 (live) [Frustrated Funk]
https://soundcloud.com/214_electro
CCL [TUF, Research, AP] b2b Succubass [TUF]
https://soundcloud.com/ccl-tuf
https://soundcloud.com/succubass
** The early 🐦 gets the worm. Save 💰!
Limited $12 early birds.
………………………………………
Kremwerk
1809 Minor Ave. Seattle, WA
http://kremwerk.com/
21+
………………………………………
Previous Research guests include...
Mike Huckaby, Bambounou*, DJ Stingray, Joey Anderson, Avalon Emerson, John Tejada, Peverelist*, Voiski*, Randomer* , DJ Sotofett*, Umfang, Hodge*, Lotic*, Gunnar Haslam*, Olin*, Cooly G*, Call Super*, Recloose, Person of Interest*, Yaeji*, Josey Rebelle*, Ectomorph, BMG, J. Albert*, Jayda G*, LNS*, D. Tiffany*, Kyle Hall, Urulu, Dean Grenier, Bobby Draino, Friendly Chemist*, Bake*, 1800HaightStreet*, Myte*, Aaron J*, Homemade Weapons, Raica, 214, CYLC, Kristen Dalen, Elle Stary*, Simone, Kadeejah Streets, Ellem, Canaan, Will Winston, Fugal, Nyquist, R-Pal, Aos, Simic, J-Justice, Yung Futon, US41, Ctrl_Alt_Dlt, Brian Lyons, Tyler Morrison, Jacob London, Carlos Ruiz, Cody Morrison, Dempsey, Reverend Dollars, Warlokk, Soffos, Howin, Biome, Succubass, CCL, Ahold Of, Kuri Kondrak, PLL, Roddimus, DJ Zai, Austin Stone and Hiberner.
*Seattle Debut
Research seeks to provide a safer space for attendees to thrive on the dancefloor. Those who exhibit racist, sexist, homophobic, transphobic, ableist, ageist, and/or physically/sexually/verbally aggressive behavior will be bounced for the night and potentially barred from future events. If you experience any of the above please contact a member of Kremwerk staff.
Thank you for supporting underground dance music in Seattle. If you're down with the cause, please invite your friends to this event / spread the word.
… see you on the dancefloor! 👠